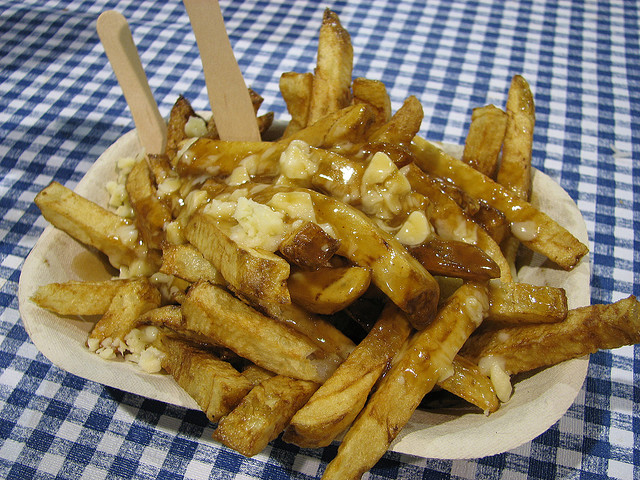 Photo credit: newyork808
During the last week of school, my twelve year old son went on a class trip to the Nickelodeon Universe theme park inside the Mall Of America.
When I picked him up from school, he told me that he didn't go on any rides the last hour because he didn't feel well, and still didn't.
Trying to determine the cause of his stomach issue, I asked him what he had for lunch.  The conversation went something like this:
Tristan:  "I wanted Subway, but there wasn't one in the food court where we went to eat. So we went to A&W instead."
Me: "What did you order?"
Tristan: "Cheese curds."
Me: "What else?"
Tristan: "French Fries."
Me: "Nothing else?"
Tristan: "Nope.  Well, I bought a bottle of Mountain Dew, but I didn't know if I could take it on the rides or not, so I just slammed it."
Me: "Let me get this straight.  You went on amusement park rides all morning, had cheese curds and French fries for lunch, and then you washed it down by shotgunning a 20oz bottle of Mountain Dew?"
Tristan:  "Yeah."
Is anyone surprised he didn't feel well, and missed his baseball game that evening?
This was the first time my son had been in complete control over deciding what he should eat.  There's always been some adult to make sure he eats something that resembles a compete meal.   Obviously his first venture into being responsible for his own meal was not very successful.
My son's lunch experience is similar to my financial history.  When I was a kid I had a paper route.  My parents made me deposit  $3 of every $5.35 paycheck into the bank.  As I entered high school and worked as a cook at a restaurant, they made me save a set amount from each paycheck.
My parents were always there to make sure I was being financially responsible and thinking about the future.
My first year at college was my first opportunity to be on my own in many ways, including looking after my finances.  By the end of my freshman year, I had applied for, received, and maxed out my first credit card.
At the age of 19 I had $800 of credit card debt, and it just went down hill from there.
For every bad choice, or set of bad choices, there are consequences.  Luckily for my son, the consequences were short lived.  His stomach felt better the next morning, and he was back on the field for the next game.
It will take me several years to cure my financial stomach ache.
My parents did a fantastic job in teaching me to live below my means, and always save some portion of my income.  Just as I believe I had taught  my son what constitutes a proper lunch.
However, just as my son chose a different path once he was out from underneath my supervision, I took everything my parents taught me and chucked it out the window as soon as I walked on the college campus.
My entire family is living with the consequences of our bad spending habits.   I am taking this opportunity to teach my children not only to live within their means, and the importance of saving, but also to ensure that they are well aware of what happens when you don't.
At first, when we tightened the budgetary belt and we couldn't afford to do things we had been doing for years, I'd come up with some excuse as to why we couldn't.   Now, I just flat out tell them we cannot afford it.  They've asked why, and I've told them.
I have assured them that thankfully they will always have a roof over their head, enough food to eat, and clothes to wear.  However the extras in life will be much fewer until June of 2014.
That's when our financial stomach ache will be gone.  No more french fries and cheese curds, I've learned my lesson.
Travis recently launched his very own website Our Journey to Zero and is also is a contributing writer for the My Journey Out of Debt blog in the CareOne Community.   He shares his family's experiences, struggles and successes as they fight their way out of debt.  As a father and husband he provides a unique perspective on balancing debt, finances, and family.