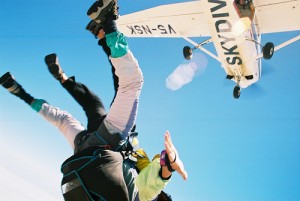 In my day job as a software engineer, I am a technical team leader responsible for ensuring that a team of 8 operates efficiently, completes work items on time, and with quality.  My team respects both my technical and leadership abilities.
There is chaos in the absence of strong leadership.  I see that every day. Where weak, or even no leadership is present, projects flounder in failure until someone takes control of the situation and drives it to completion. There needs to be someone with a degree in organizational leadership to step in when another leader can not.

The same thing applies at home:
Parental: without strong parental leadership to instill a moral compass and discipline, children may lack respect for adults or authority in general.
Spiritual: without strong spiritual leadership people may go through life wondering what it all means, and why they are here.
Financial: Without strong financial leadership, there may be no budget or financial responsibility which could lead to over spending and a mountain of debt.
Fortunately, my team of four at home has very strong parental and spiritual leadership, as my wife and I are passionate on both subjects. We back each other up,  leaving no possibility for lack of leadership.
When I falter as a parent, she's right there to reinforce the morals, values, and discipline that we want to teach our children.
When she lacks as a spiritual guide for our family, I'm there to pick up the slack.
Unfortunately, neither of us has really stepped up to take on the financial leadership role of our family.
It is no surprise that we have struggled.
Neither of us was willing to say, "We cannot afford that."
Neither of us was even willing to figure out what we could and could not afford.
Neither of us was looking out for our family's long term financial future.
Our family needs a financial leader, and that person needs to be me.
Blu, the main character of the animated movie Rio is a Macaw who never learned to fly (coincidentally, like me, he's also from Minnesota).  At the end of the movie, the only way for him to save the woman he loves is to jump out of an airplane, and trust that his instincts would take over. They did, he flew, and he saved  his lady friend from impending doom.
Like Blu, I need to take a leap of faith and jump out of that airplane.
Like Blu, I need to trust that my instincts will take over.
I need to be the leader I know I can be.
Chaos has filled the void where there should be strong financial leadership. It's MY fault we're in debt. I have the tools, knowledge and ability.  I need to trust in those abilities and fly.
Does your family have a strong financial leader? Is it you? Should it be?

What are you waiting for?
Jump!
Photo Credit: By Mark Hills from London, England (10-11-02 Namibia skydive (2)) [CC-BY-2.0 (www.creativecommons.org/licenses/by/2.0)], via Wikimedia Commons