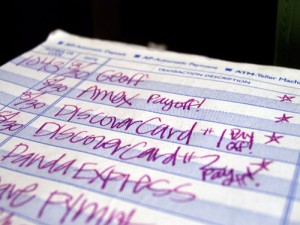 I recently registered for the Twin Cities marathon, which will be held in October of this year. It will be my third marathon, so I've been through the training before. However, as a refresher, I dusted off a marathon training book I had purchased several years ago and began reading.
The first chapter is quite inspirational. It reflects upon the time and effort it takes to train for a marathon. By the time race day arrives, months of work have been put in, and hundreds of miles have been logged in preparation of the big event.
The thing that stands out for me is that the author urges the readers to remember to enjoy the actual race. After all, the goal of marathon training is to condition the mind and body to push through adversity and run for hours continuously. Any marathon training program will have already had the runner perform this several times. By the time race day arrives, these goals have already been accomplished. All that is really left to do is to put those skills on display.
The emphasis of the writer is on the journey. It's through the journey of increasing mileage, losing toenails, sore muscles, and weekly long runs that the next 9 months of training will transform me once again into a marathon runner. On October 7th, starting at 8:00am, I will enjoy the crowds cheering, the music blaring, and the mystique of a race called marathon.
The race is not the goal. It is the reward.
Paying off debt can be put into a similar perspective. My wife and I have been making payments to our debt management program for two and a half years, and have another two and a half years remaining before our credit card debt is completely gone. During this time, we have been and are continuing to figure out how to handle our finances the correct way. Budgeting, communicating, as well as learning and practicing self control.
It is through this 5 year journey of arguments, tears, failures, practice, successes, and repetition that my wife and I will become financially responsible. By the end of our program, our goal is to be living within our means, have an emergency fund, and be saving for our kids' education as well as our own future in retirement.
Our last projected payment to our debt management program is June 28th, 2014 after which our credit card balances will all be zero.
But that's not the goal, It is simply the reward.