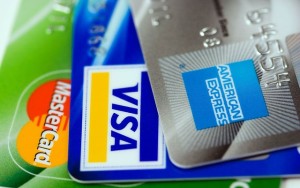 My wife encountered a surprise while booking a hotel room for a trip to Florida we're planning for the beginning of April. She gave the hotel our Costco American Express card number to reserve the room, and requested an email confirmation. Everything seemed to go smoothly, until she opened up the email. In red lettering was a warning stating that the credit card given expires before the hotel reservation, and that a valid card will be needed when we check in.
Looking at the card, it's expiration date was not for several months. I was momentarily confused, but then remembered that Costco is ending their relationship with American Express this year, and switching to Visa. Sure that the warning from the hotel was somehow related to this fact, I decided to make some phone calls to find out exactly what what to expect in regards to our rewards credit account.
According To Costco
My wife called Costco first to ask them what the end of their relationship with American Express means to customers that have a Costco American Express rewards credit card. The representative gave the following points information.
As of April 1st, American Express will no longer be accepted at Costco stores. On that date, they will begin accepting Visa credit cards instead.
They are moving towards using Citi Visa for their rewards credit account.
The process of getting Citi Visa on board is currently in underwriting and is not finalized.
They are hoping to have everything complete and new cards mailed to customers by April 1st, but cannot promise anything.
They are hoping that Citi Visa will just buy the accounts, meaning balances would automatically be moved to the new cards, but that's not a certainty.
The American Express Perspective
Next, I called American Express to find out what they would say about the situation.
The relationship between Costco and American Express will end sometime mid-2016, but they do not have a final date.
The termination date will be communicated to customers as soon as it has been determined.
While Costco may stop accepting  American Express as of April 1st, the cards will not be shut off until the termination date
Current Costco American Express holders will have the option to transition to a different American Express rewards account. The representative was extremely interested in telling me about these options and shockingly encouraged me to move to one as soon as possible.
The thought that came to mind as I was having these two conversations was, "What a complete mess."
Summary Of The Situation
Let's summarize just how jacked up this situation is:
As of April 1, my Costco American Express can no longer be used at Costco. They're switching to Visa, but they don't know when it will be available, or if current balances will be assumed by the new account. There's also the question of whether current card holders will have to re-apply for the new card. The representative couldn't answer that question. Even though my Costco American Express can't be used at Costco after April 1st, I might still be able to use it elsewhere until mid-2016. They don't know exactly when it will stop working.  But,they'll be sure to let me know, and it definitely isn't already set for March 31st regardless of the warning message my wife got through the hotel reservation system which American Express couldn't explain.
For a company that's known for having a great business model by treating their employees well and great customer service, they've really done their customers a disservice by how this situation is being handled.
Come on, Costco, you've got to do better than this.
Do you have a Costco American Express rewards card?  Have you heard any additional information on this situation?