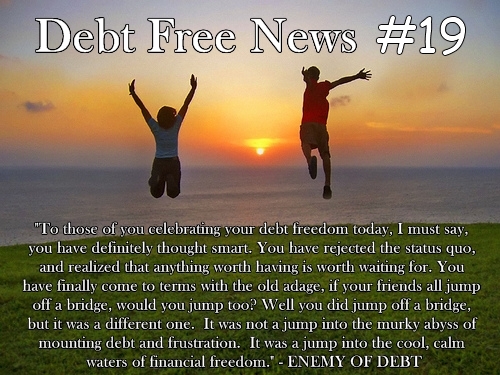 Happy DEBT FREE FRIDAY everyone!! Christmas is almost here. Are you ready? Will your Christmas be a Debt Free Christmas in 2010?
I know someone who will be having a debt free Christmas this year. Dave, the author of I Heart Money. He has a book about how to change your relationship with money so that you can pay off your debt and build assets!
Regardless of how it sounds, if you are still in debt you can have a debt free Christmas. That's right and it's real simple too.
Buy Christmas with money you have! If you use credit cards, you MUST pay them off by the end of the month your gifts were purchased to have a debt free Christmas!  My first debt free Christmas was in 2008, and although we were still working on paying off our debt, we paid for our Christmas with our Christmas savings account. It was one of the best Christmases we have ever had.
No guilt. No worries. No stress. No big bills to follow us for six months! Just a wonderful worry-free Christmas, which gave us more time to enjoy the family.
If you really want to get out of debt you must avoid the credit cards, at least until you truly have control of your spending habits. No matter your financial situation, you have the power to turn things around!
So with all that said I want to wish each and every one of you a very Merry Christmas!
Have a great weekend too!!
The Enemy of Debt Questionnaire – Dave from I Heart Money
How much debt did you have and how long did it take you to pay it off?
I had $27,500 in student debt when I graduated university. I did a few things to get out of debt.
I increased the AUTO payments on my debt so it would come out of my account every time I got paid. At times I had 50% of my pay coming off my account and I lived with my parents.
My work gave me the option to push my bonus into my pension which I did and with the tax return I dumped it on the debt.
when i bought my first condo I wrapped my student debt into my mortgage and brought the interest down by a large amount.
I then increased my mortgage payment to make sure that I paid back my mortgage as fast as I could.
After investing properly I paid off the rest of my debt by buying dividend stocks and using the dividends to pay down the mtg.
How does becoming debt free actually feel? Does it feel better than you imagined it would?
Being out of debt is freeing. If you have a strong value of freedom, knowing that you can do whatever you want, whenever you want, without a payment waiting to come out of your account, will be more satisfying than you can even imagine. (AMEN!)
What were some of the struggles that you had to deal with along the way? Was there ever a time where you almost gave up?
I find it easier to grow your way out of debt than to live a spartan lifestyle. If you cut the things that you enjoy you'll crack and just spend when feeling weak. The best I find is to build assets that will help you pay your debts. Make more money, cut things that don't truly make you happy and contribute to your IRA or 401k and use the tax return to drop on the debt. Build your assets and let them help you pay down your debt.
What would you consider to be the most important key to becoming debt free? What helped you the most?
Anchor yourself to all the things that you'll do with those debt payments. Things that will make you truly happy instead of the bank.
It seems a lot of people have bought into the idea that debt is essential in order to prosper, what do you have to say to those people?
Prosperity in my opinion comes from assets. Assets without any liabilities would be the best scenario.
What was the biggest sacrifice you would say you made in order to become debt free? What about you changed the most?
When you get other assets to pay down your debt you don't have to make that many sacrifices. It's win win. (Editor's Note: There are always sacrifices when you go from living one way to living a completely different way. A sacrifice to someone in debt would be to stop buying whatever they want to instead build assets.) 😀
Did your friends and family give you a hard time about your new mission to eliminate the debt from your life? If so how did you deal with it? Do you think you inspired others by your journey?
My parents are old school so debt is the great enemy and should be eliminated at all costs. I learned from them. They were a great inspiration to me.
What is next for you? What financial goals do you plan to accomplish?
I wish to continue growing my assets debt free. It allows me to now use the income I used to pay debt to now provide a life based on all the things I really love like travel and spending time with my family.
Debt Free News From A Debt Free Reader Series
Click here to read any of the other great debt free stories in this popular series!
More to come…but only if I get some new submissions! 😀