Over the weekend Vonnie and I hosted a family Christmas gathering for her side of the family. We sent the invite out via Facebook several weeks ago, and it didn't take long for the RSVPs to start rolling in. We also started getting questions regarding whether we were going to have a gift exchange, but with over 30 people expected to show up, we weren't sure how to do it and keep it economical. Talking about it for awhile we remembered a game that we've played at Christmas gatherings before, and decided it would be perfect for this one as well. We decided to play a little dirty dice.
Because nothing screams family Christmas like a little gambling, right?
We requested that each person that wanted to participate bring a gift with a maximum value of $10. When it was time to play, all the gifts were placed in the middle of our living room, and the participants formed a circle around the gifts.
A pair of dice and a plastic bowl was passed around the circle having everyone take turns rolling the dice. By rolling doubles a person earns the gift of choice from the pile. This continues, skipping anyone who already has already rolled doubles, until everyone has a gift. Once all the gifts have been chosen, everyone opens their gift and reveals what they have.
This is where the crazy fun kicks in!
The dice are again passed around the circle, each player taking a shot at rolling doubles. If they don't, they just pass the dice on to the next person. If doubles are rolled, they can keep what they have, OR they can steal from anyone else, trading gifts with their victim.
You can even customize the game to make it more interesting. For example when we got to the stealing round, we added a second pair of dice to increase the chances of doubles being rolled. Or, a time limit could be set on the stealing round. It's fun to watch people move slower or faster depending upon how much they like the item they have!
I bet you're wondering what kind of gifts were in the pot for our family Christmas dice game that clocked in at under $10 – here are some examples:
Of course one person put two crisp $5 bills in a tin container. Who doesn't like cash????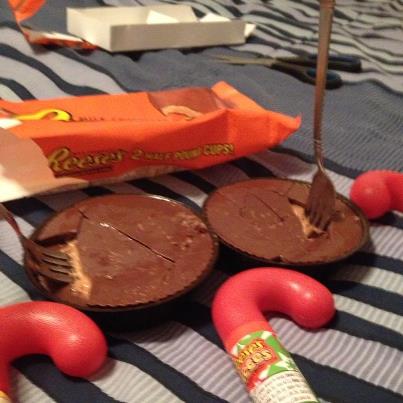 What do you think about these bad boys?  Those are two ½ pound Reese's Peanut Butter cups won by my nephew. Since there were two, he shared with my son, Tristan. YUM!
I won a sausage and cracker combo, which I exchanged after the game with my mother-in-law's fiancee's package of AXE products. He didn't want it because he's "not a teenage boy looking to pick up girls." I figured I could give it to Tristan because he IS a teenage boy looking to pick up girls.
Since I traded my item away for something I was going to give to my son, you might think I ended the game empty handed.
So wrong!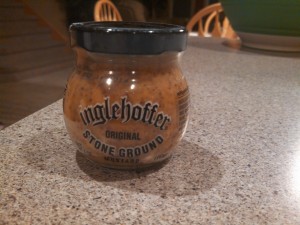 The sausage and cracker package also included this jar of Inglehoffer stone ground mustard, which I LOVE!  My mother-in-law's fiancee isn't a fan of mustard, so he gave it back to me!
I ended up with an afternoon of fun, a ton of awesome memories, and a jar of kick ass mustard. What else I could I have asked for?
What about you, readers? Do you play any fun games at your family Christmas gatherings, or have a unique way of doing the gift exchange?