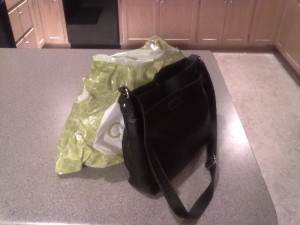 "Unless Vonnie wants to go along to the mall with me…" our friend's voice trailed off.
Sure, I'll go. I can look for a spring coat for Tori," said my wife.
A new spring coat for our daughter was in the budget, as previously discussed while planning our spending for that weekend. The coat was actually the final expenditure for the weekend as it drew to a close that Sunday afternoon.
In a whirlwind of activity, I got ready to go to the gym, Vonnie and her friend put on shoes, grabbed their purses and headed out door with my wife's voice calling, "I love you!" as she was whisked out the door.
As I was driving to the gym, I started to worry. History told me this will not end well. Our friend loves to shop, and has had the effect of making the people around her spend money even if they hadn't planned to. There have been times where an unexpected shopping trip just like this had resulted in a trunk full of bags, and a pocket full of credit card receipts. On the other hand, we certainly did discuss our expenditures for the weekend, and we had agreed upon an amount for the coat. Neither of us wanted a repeat of the $57 jar of candy.
I arrived at the gym and moved through my workout, but I couldn't get my mind off of the potential for overspending. A million thoughts and questions raced through my mind.
Would she fall victim to temptation and buy more than the coat?
Would she remember our spending discussion, and the budgeted amount?
Maybe she would actually find a sale!
Maybe I should call her?
Maybe I should text her?
After all of that, I decided that I should do something entirely different.  I concluded what I should be doing is trusting her.
When I came home, she was sitting at the kitchen counter, a small bag sitting in front of her. I kissed her on the forehead and asked her if she had found a coat. She indicated she had not only found a coat, but two shirts.
Slightly worried, I opened the bag, and pulled out the clothes as well as the receipt. Here's what she bought:
Spring Coat: $10 (normally $25)
Two Shirts: $4.50 each (normally $11 each)
Total price: $19
Budgeted Amount? $20
My rock star wife slid in just under budget, with not only a coat, but with two shirts as well.
As Vonnie and I have progressed through our debt management program, we have worked hard at improving our communication with each other regarding finances, as well as the execution of the set budget. We're not perfect at it all yet, but we can both feel that we are entering a new phase of our development. We are realizing that beyond communication, a healthy financial relationship also has to have mutual respect and trust. For Vonnie and I to be able to watch the other drive off in a car with someone to go shopping and trust that they will honor the spending limits we had agreed upon is a wonderful feeling.
What do you think, how much do you trust your significant other?