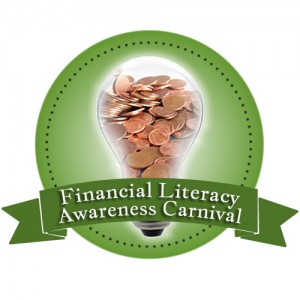 Preface:  Today I'm taking part in the Financial Literacy Awareness Carnival hosted by Shannon at The Heavy Purse.  Once you've finished here, click here and check out the list of other great posts by my fellow bloggers also participating in the carnival!
Sitting in a chair facing a filled to capacity movie theater, the question that popped into my head was, "How did I get here?"
I was one of three customers invited to the headquarters of CareOne Debt Relief Services in Maryland in September of 2012. They were holding an employee recognition event, and wanted to have a few customers attend as well.   I hadn't learned that we were to be invited on stage to be part of the program until moments before we walked into the theater.  I thought maybe my friends were kidding with me, until I walked into the theater and saw three chairs had been placed in the center of the stage.  I took my seat in the front row, leaned back and waited for the event to begin.
"Travis is going to fall asleep," said one of my friends from CareOne.
It wasn't out of the realm of possibility, as at the time it was well known that I was surviving on a miniscule amount of sleep.  I opened my eyes briefly and smiled, but in this case my friend was off the mark.  It was one of those very rare moments in life when you absolutely know that you are having an experience that will be remembered for the rest of your life.  I was simply soaking in every second of what was happening to me.  I remember "Home" by Phillip Phillips playing in a loop over the theater's sound system.  I can still hear my friend Suzanne laughing down the row.  I remember the conversation my fellow customers, Monica and Katie, were having in the seats beside me about how Monica was about to make the last payment to her debt management plan.
I also remember the question "Travis, how much debt did you have when you enrolled in your debt management plan?" slapping me in the face as I sat on the stage.  I froze for a moment and looked out at the hundreds of faces looking back at me.
"How did I get here?" I asked myself.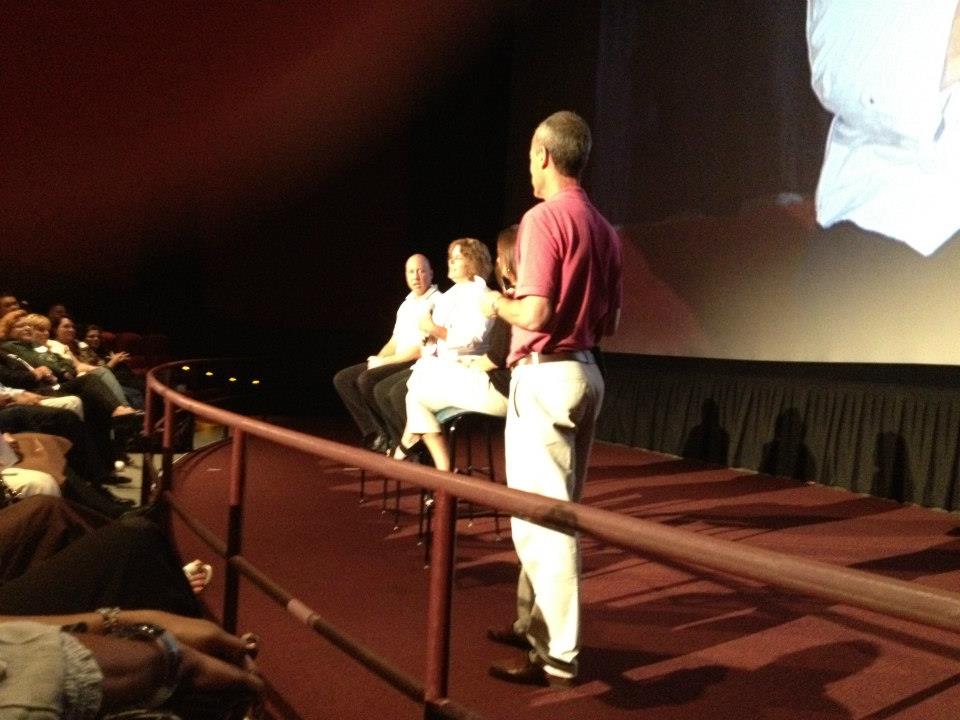 The answer goes all the way back to the day my wife and I got married.  We didn't communicate about our finances at all.  Over the course of thirteen years we racked up $109,000 of credit card debt due to constant overspending and my refusal to involve my wife in our finances.  I found a way to continue to keep us (barely) afloat through supplementing our income with credit cards.  Eventually our finances reached a crisis and we sought help through a debt relief program.  At the time of the event, we were over three years into our five year program.  We had paid off over $60K of that debt, and had slashed our monthly bills, but our communication with each other was still not where it needed to be, and quite frankly we didn't know how to fix it.
"One hundred and nine thousand dollars," I answered.  A collective gasp rippled through the audience.
For someone that has was desperately searching for an answer to  a communication problem, there was something very empowering about admitting to a packed theater of strangers that I had racked up $109,000 of credit card debt.
A memory from a month prior surged through my consciousness.  I had been preparing for a two week business trip to India.  I don't normally travel for work, so my wife was understandably concerned about having me be away.  She had been concerned about handling all of the household responsibilities on her own.  She was sad that I would be away from her and our children for two weeks. She was also concerned about our finances.  Even at that time she had no idea what bills were paid on what dates.  She didn't know how much discretionary funds she would have available while I was away.
We sat down with a calendar, and wrote down when income would be coming in, and when bills were due.  We created a detailed spending plan for the two weeks I would be gone.  We withdrew cash and put it in envelopes for the day to day spending.  It was the very first time my wife and I did a complete budget together.
As the gasp from the crowd trailed into a whisper, and then into silence, I looked again at the faces in the crowd.
"How did I get here?" I asked myself again.

I got here by not communicating with my wife.  I got here by not working as a team with the person I love most in life.   Sitting on a stage in front of video cameras and a crowd of strangers I had admitted to my financial failures.
"How I could I do this, but find it difficult to communicate with my wife?" I asked myself.
Empowered by what had just occurred, I realized I had the skills to communicate openly and effectively.  Combining that with the memory of our teamwork prior to my trip to India, I knew that we had all the tools necessary to manage our finances successfully.  Now, all we had to do was execute.  When I returned home, we used what we had done a month earlier as a foundation for the budgeting and financial communication model that we use today.  In love, and in life, Vonnie and I are a team.
We couldn't be successful any other way.