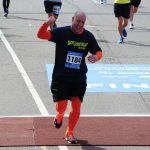 Happy New Year, EOD Nation!  2019 is young and full of potential.  Personally, I'm putting a renewed focus on my health, looking to lose about 40 pounds and run a half marathon (already registered) in June. I've also got some financial goals, including pumping up that emergency fund! I have fun events already planned (and paid for!) in 2019 including seeing one of my favorite bands in concert, a trip to Florida with a large group of friends, and a four day music festival in northern Minnesota.
I'm sure more fun and exciting things will pop up, but 2019 is already looking to be a great year!
Fist pump for living life, and my favorite posts of the week!
Posts That Make Me Fist Pump