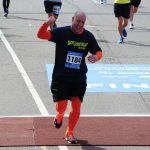 We're proving the power of the potluck tonight. My wife and I are having a group of friends over for a fish fry and to watch the Minnesota Twins start the post season.  We know some people that have fish from a deep sea fishing trip they want to get rid of, so we started a text thread and rounded up a group of 18 people to bring their favorite side dish or dessert and hang out for a night of food, fun, and baseball.
How about you, EOD Nation, how do you have fun without spending a lot of money?
Fish pump for wallet friendly good times, and my favorite posts of the week!
Posts That Make Me Fist Pump