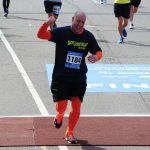 I'm going to have an incredible steak and king crab leg dinner this weekend at a fantastic restaurant.  Just kidding.  Well, I am going to have that meal, but I'm making it at home.
My wife and I are getting together with some friends for a great meal at home, and then a comedy show at a club. I offered to try to save more money by doing a comedy act too, but we're going to leave that to the professionals.
Fist pump for saving money by making great meals at home, AND for my favorite posts of the week!
Posts That Make Me Fist Pump