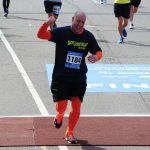 Today is my daughter's high school graduation day. Due to the COVID-19 pandemic, she will not be having the traditional graduation ceremony.  Her school is holding a "drive up" ceremony in which each family (one car per family) drives through the school parking lot.  When a car reaches the front of the school, the graduate gets out, walks up on a stage and receives their diploma.  They then walk off the stage where a photographer will take their picture next to a stone panther (the school mascot) before the graduate gets back in their car.
Given the restrictions our state currently has on gatherings, she won't have the usual graduation reception either.  We're doing waves of small gatherings. First my wife's family tonight, my family tomorrow afternoon, and some close neighbors and friends tomorrow night. We won't be able to invite everyone we wanted to invite, but we're doing the best we can.  We also have to put all the food into individual containers.  No buffet style food. That adds a little to the cost of the whole thing, as we have to buy a bunch of containers from a restaurant supply store.
My wife also came up with the idea of making taking our daughter's 8×10 school pictures all the way back to preschool, and making poster boards for each school she attended.  Preschool, two elementary schools, middle school and high school.  We then went to each school and took a picture of her with the poster board containing the school pictures from that time.
We're hoping we can make her feel as special as possible in this strange time, without breaking the budget.  We're so very proud of her and all she's accomplished!
Fist pump for my daughter's high school graduation, AND my favorite posts of the week!
Posts That Make Me Fist Pump