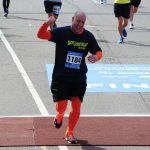 This Sunday is Mother's Day, and due to the stay at home order from my governor, I won't be seeing my mother.  At least not in person.  I'm hoping to at least talk to her, if not use Skype to talk to her (and my dad).
Locally, our cul-de-sac is having a "Social Distance" brunch.  Everyone is making something and putting it at the end of their driveway.  I'm making omelets on my gas powered griddle.  Then, we can all walk separately around the cul-de-sac and pick up food to eat.  We'll then all sit in chairs at the end of our driveways and eat "together."  Necessity is the mother of invention, right?
Fist pump for awesome neighborhoods, AND my favorite posts of the week!
Posts That Make Me Fist Pump