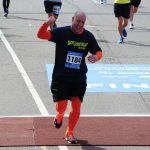 Welcome to the weekend, EOD Nation!  I'm feeling extremely relieved for several reasons:
we have our hail damage insurance claim taken care of (as much as we can right now) and are just waiting for our contractor to tell us when the roof will be done
Our new refrigerator was delivered, and is keeping all our food cold again
A major problem at work I've been involved in has been resolved
With these three stress points behind me, I plan on attending a high school football game tonight, cleaning out smokers tomorrow, and enjoying Minnesota Vikings football on Sunday.
Fist pump for stress free weekends, AND my favorite posts of the week!
Posts That Make Me Fist Pump