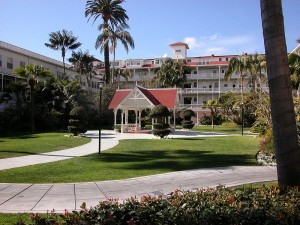 We knew we didn't want to drive the entire 11 hours home from Kentucky to Minnesota in one day, so we were looking for somewhere to spend the night at about the 7 hour mark. The wife of another couple that had also traveled from Minnesota found a place in the desired city and price range using Hotels.com. Looking at the computer screen, I was impressed with the website as it listed the hotels for the city requested as well as the surrounding area. Users are also able to sort the list many different ways. Our friend called and booked their room at a Holiday Inn Express, then gave Vonnie the number.
This marked the start of a phone call adventure that would start that evening, and continue through the plains of Illinois the next day.
Phone call #1: Hotels.com
Vonnie asked questions gathering information about the hotel, as well as inquired about getting a better rate. $124 was the best they could do, so she booked it. It did seem a little weird to Vonnie that he didn't understand her question about Holiday Inn Priority Club Points.
Phone call #2: Holiday Inn
After pondering the first phone call for about an hour, Vonnie was concerned that she had given our debit card number to a scammer. Calling the Holiday Inn directly, they confirmed our reservation for the next evening. Just for fun, Vonnie asked what the best rate they could give us. Using a corporate rate through my employer, they quoted us a rate of $99, but they couldn't reduce the rate of our current reservation since it was booked through a third party.
My wife's new top priority in life was to get the lower rate.
Phone call #3: Hotels.com
Vonnie wanted to cancel our existing reservation, and rebook it through the hotel directly at the lower rate. The representative stated that they could cancel the reservation, but the hotel had already charged our account, and while Hotels.com would cancel without any fee, the hotel charges a cancellation fee of one night's stay. Sounds strangely like having a "no cancellation" policy for customers only staying one night. After pressing the issue, the gentleman on the phone said they could try to cancel the reservation, but could only do it with the approval of the hotel. The representative called the hotel, got the approval, but indicated it would take up to a week for the money to be refunded back to our card. Vonnie didn't feel confident that this switch could be pulled off without hitting a snag, so we decided to just keep the current reservation, even though it was at a higher rate.
Side information:
The hotel said they would gladly cancel the reservation, but Hotels.com wouldn't allow it.
Hotels.com said they would cancel the reservation, but needed the hotel to sign off on it.
Hotels.com said the hotel had already charged our account, but my online banking statement says that it was actually Hotels.com that charged me.
Somebody is not telling the truth
My guess is that this sat wrong in my wife's stomach all night. While on the road the next day, she picked up her phone and went to work.
Phone call #4: Holiday Inn
She attempted to again confirm our reservation, but instead found that it had been cancelled at the instruction of Hotels.com even though she explicitly told the representative not to. Had she not called, we would have arrived at the hotel with no reservation, but would have been charged for it, as the confirmation number was still a valid reservation through Hotels.com.
Traveling north through Illinois on Interstate 39, I saw a storm brewing on the horizon. But it didn't compare to the storm swirling in my wife's eyes at that moment. Look out, Hotels.com.
Phone call #5: Hotels.com
The gentleman that fielded Vonnie's phone call was lucky he was good at his job, because it could have gotten ugly. I envisioned lightening shooting out of my wife's eyes sitting next to me in the van as we rolled through the countryside. I pictured her poking her fingers in the air at a virtual person as she went through the whole sequence of events, painful by painful detail, demanding that they "make it right." But what I heard was one side of a very diplomatic conversation which ended with our reservation being cancelled with Hotels.com, the receiving of a cancellation number, and a promise of an email to verify.
Phone call #6: Holiday Inn
Room booked at $99, saving $25.
Vonnie and I agree that we will never book a room through Hotels.com again. Not because they didn't offer the best rate – no single method of reserving a hotel room will get you the best rate every time. We will not use them again due to their failure to explain their policies up front, their inconsistent explanations, and their failure to follow through correctly with simple tasks.
I never did get that cancellation confirmation email. If my money doesn't get refunded, this adventure may not yet be over.