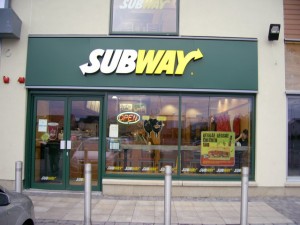 I love Subway.  My whole family loves Subway.  In fact, over the last year, it has become tradition that I pick up Subway and bring it home for the family for Saturday lunch. We don't eat out all that much, and it's our way of saying, "How you doin?" to the weekend.
I'm not sure if  they suddenly raised their prices, or if it was a gradual increase that just finally hit my breaking point, but a few months ago I noticed that Subway for my family of four was getting  kind of expensive for a Saturday lunch.
Here's an example of what was a typical Subway bill for us:
Me:      6" Subway Club             $4.50
Vonnie:  6" Spicy Italian           $3.75
Tristan: 6" Ham and Turkey:         $4.25
Tori     6" Turkey                  $4.25
Pop / chips ($2.50 x 4)             $10.00
-------------------------------------------



 Total:                              $26.75 
For some reason I had it in my head that our tradition cost "right around $20." But after tax, my total was much closer to $30. As I stared at the menu board and prices, I realized two things:
The Subway I go to is located inside a Walmart – where pop and chips are cheap.
Sandwiches are less expensive if you order a 12"
The next time I went to pick up Subway, I altered my ordering a bit to order foot long sandwiches that we can then just give 1/2 of a sandwich to each person:
Vonnie and Me:    12" Spicy Italian     $5.50
Tori and Tristan: 12" Ham And Turkey    $6.25
No pop or chips.
I know exactly what you're thinking:
Yes, They do allow me to put different toppings on the two halves of a 12" sandwich.
Yes, sometimes they get confused and/or roll their eyes.
No, I don't care.
It does get a little dicey when I try to navigate the sandwich artist through Tori's (aka, Miss High Maintenance daughter) request to have double cheese but only half the meat on her part of the sandwich – but most of the time I can get it done.
Sandwiches in hand, I walked into the Walmart and picked up a 2-liter bottle of Dr. Pepper and a bag of Doritos (both loved by everyone in the Pizel Family).
New Price:
Sandwiches:             $11.75
2-Liter of Soda:        $ 1.00
Bag of Chips:           $ 2.99
-------------------------------


Total:                  $15.74 
A savings of $11.01!!!
I do realize that we give up the ability for each of us pick our own kind of soda and chips. But, we discuss what we're going to get before I leave the house, and we never have a problem coming to an agreement.   We saved a significant amount on our bill  just by altering  how we order a little, and purchasing our own soda and chips.
Our Saturday tradition was in serious danger of being discontinued,  but with that kind of savings, my family will continue to enjoy Subway for lunch on Saturdays.
So how about you, friends?  Do you have any traditions or routines that are becoming too expensive to continue?