It's no secret that I dislike going out to eat. To be specific, I don't like going out to eat just to order something that I could make as good at home, at significantly less cost. I don't mean to dwell on this subject, but eating out is just such a colossal waste of money.  The absolute worst offender is anything pasta related, including a favorite restaurant of my wife and daughter; The Olive Garden. Look, it's not The Olive Garden's fault that they garner such hate from me, it's just that taking a family of four there for dinner can result in a bill approaching $100 after food, drink, tax and tip.
You've seen how cheap pasta is, haven't you? I can buy a jumbo sized box for less than the change in my pocket at the end of the day.
I was being pushed hard for a trip to The Garden on Saturday night. I was just about to give in, when my kids mentioned they didn't actually want to GO out to eat, they wanted Vonnie and I to go, and bring food back to them. At least by dining at the restaurant I could at least partially explain the insanely bloated price on the fact that we're paying for the service, but the thought of overpriced, take out pasta completely blew my mind.
Instead, I got in the car and headed to the grocery store to get a few supplies. I was going to recreate our usual meal at Olive Garden, at budget price.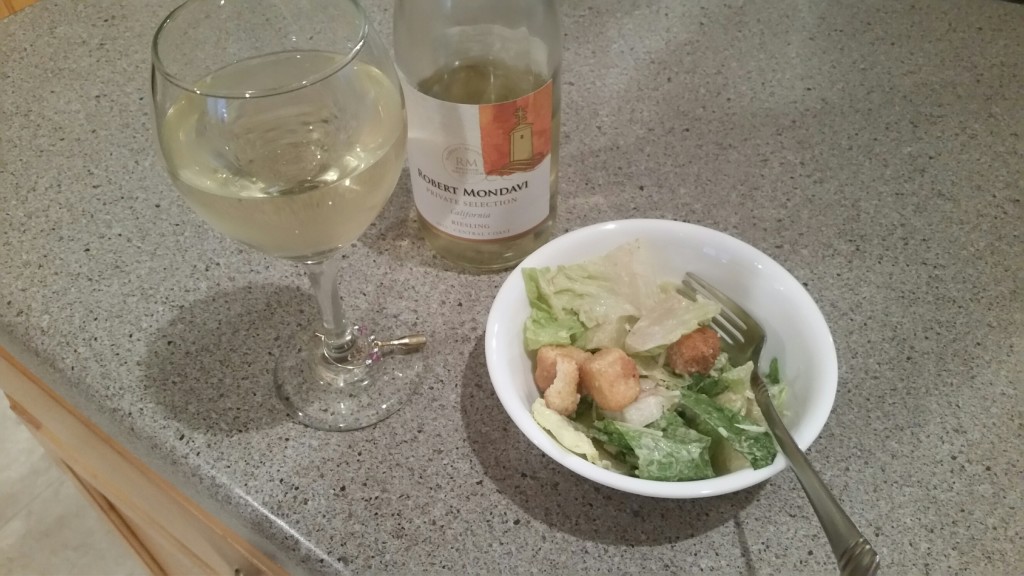 Once I got home, I started water boiling, a pan heating, and popped the cork on a bottle of wine. It was time to get to work. First up was a Caesar salad (Vonnie had mentioned she was in the mood for one), and a glass of Riesling. I took a sip of my own glass of wine as I got to work in the next course.
I seasoned four chicken breasts, and dropped fettuccine into the boiling water. Just as Vonnie needed a refill on her glass of wine, I was ready to deliver the main course. Chicken Fettuccine Alfredo and a bread stick for three of us. Just a chicken breast with a side of sauce and a bread stick for Tori.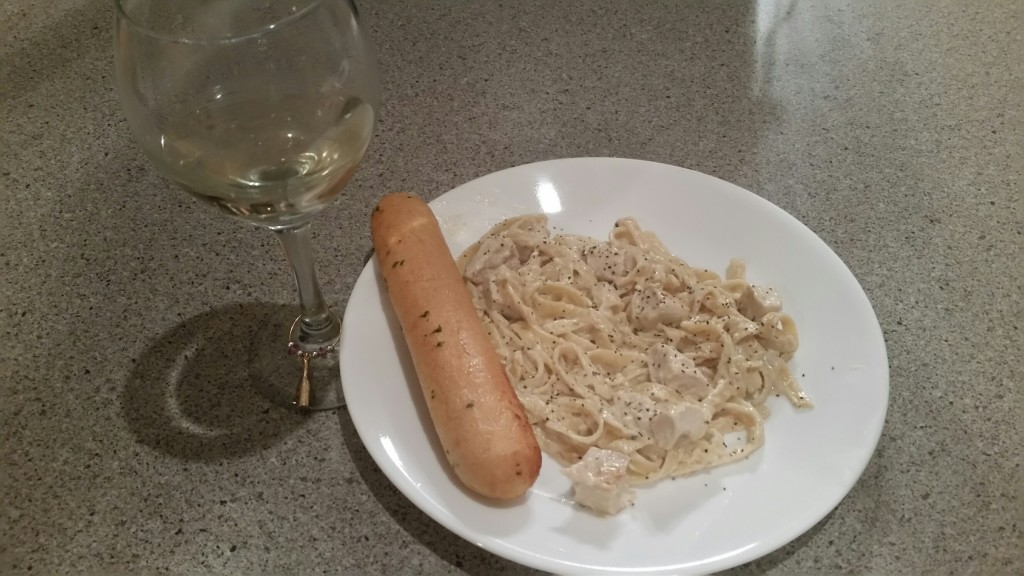 When we were done eating, each family member remarked on how good the food was. They didn't mind one bit that we hadn't actually gone to The Olive Garden. Before I could be completely satisfied, I needed to know how much money I saved.
Eating In:
Caesar Salad Mix: $3.74
Chicken : $6.44
Alfredo Sauce: $1.88
Fettuccini: $1.28
Garlic Bread Sticks: $2.34
Robert Mondavi Riesling : $9.90
Total: $25.58
Eating Out:
Chicken Alfredo (3 x $12.99) : $38.97
Kids Meal (which is what they charge us for Tori's meal) : $5.69
Bottle of Riesling: $29.00
Tip (20%) : $15
Total: $88.66
A savings of over $63.  The request to go out to dinner was a request of pure convenience. What could be more convenient than having someone go buy the needed ingredients, create and serve a delicious meal? The whole process from the time I pulled out of the driveway to go the grocery store to when the dishes were washed and put away was about 85 minutes. On a Saturday night, I challenge anyone to have dinner at a busy restaurant for less time than that door to door. The only one that had to even do anything was me, and to save $63, I didn't mind one bit, especially since there was enough left over to take to work for lunch on Monday!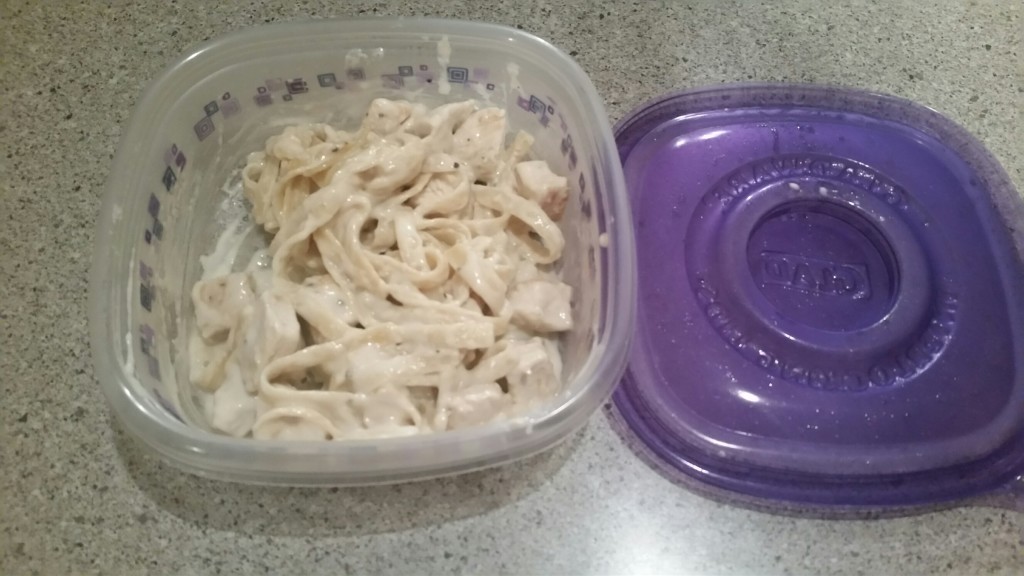 Have you ever tried to recreate similar food to your favorite restaurant at home to save money? Did it turn out? How much did you save?