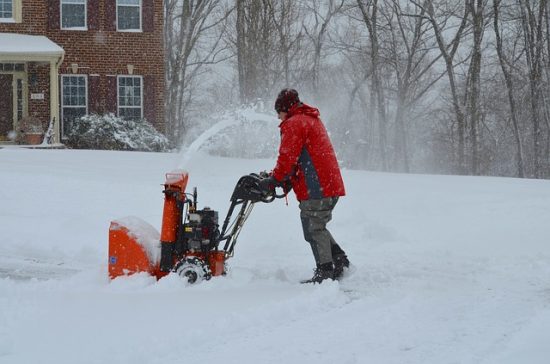 I made an unexpected purchase over the weekend. I was presented a deal I just couldn't pass up. At the age of 46, this lifetime Minnesota resident purchased his first snow blower.
For years I vehemently stated I would never have a snow blower. I thought I could clear my driveway with a shovel faster for the average snowfall. I poked fun at people spending all their time unclogging snow blowers while I kept making progress with a shovel. Those snowfalls for which a snow blower would actually be useful were too few and far in between to justify the cost of a quality snow blower.
Everything changed three years ago when my parents gave me their snow blower for free. They purchased it over 30 years ago when I was in junior high school. It's solid metal and weighs as much as a small car, but it worked. My dad bought a new one that was lighter and easier to operate since he's getting older. I quickly named my metal monster, "The Beast," and it worked gloriously for me for two years. Last year was a different story. One thing after another went wrong with it and by the end of the season it was clear it had reached the end of it's life.
Using The Beast taught me a snow blower wasn't just about speed. It was easier to clear the driveway of heavy snow than it was to lift it with a shovel. While I enjoy a good workout, my back thanked me for using the snow blower.
With The Beast no longer usable, I was either going to have to fork over the cash to get a new snow blower, or go back to using a shovel. Over the weekend an opportunity presented itself that made that decision for me.
A coworker of my wife mentioned he was looking for a new snow blower, and saw a model at a local big box store for over half off. He and a friend and bought several of them, with the intention of reselling them. He offered one to us.
We paid $550 for a snow blower that has a retail price close to $1400.
The snow blowers were part of a clearance sale because the retailer was discontinuing carrying that particular brand. While we were lucky to find an unbelievable sale, if you're looking for a snow blower, now is a great time to look for one.
Here are three things to keep your eyes open for if you're in the market for a good price on a snow blower:
Clearance Sales
Retailers may discount last year's models to make room for new versions. It may be last year's version, but it's still brand new and has a warranty.
Seasonal Sales
Retailers know people are looking for snow blowers, so they have sales to get people in the door.
Buy Used
Some may be looking to upgrade their snow blowers before winter arrives. Check classifieds and online marketplaces like Craigslist to find a gently used snow blower at a great price.
I found a deal of a lifetime on a snow blower that will be hard to beat. But that doesn't mean you can't find a great deal of your own.
How about you, EOD Nation, are you looking for a new snow blower this year? Have you found any good deals?