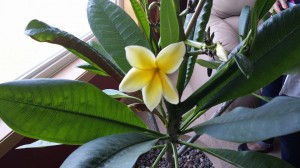 My 18th wedding anniversary is coming up in just a few weeks.  Three years ago, Vonnie and I were at about the midway point in our debt management program.  We were making progress, but money was tight and I was looking for an inexpensive yet meaningful  gift to give her.   She absolutely LOVED the look and smell of plumeria flowers when we were in Hawaii, so I found a online company that sold plumeria plants.  Since they were shipped from Hawaii, all the leaves and branches had to be removed so essentially what I got for my $10 was a stick.  We laughed about the fact that I got her a stick for our anniversary, but we both knew what it represented.  The stick didn't look like much, but we knew it had potential.  We knew that our finances were still in shambles, but just like that 8 inch stick in the middle of a flower pot it had enormous potential.
Three years later, that stick has grown into a massive indoor plant.  The instructions I got with the plant said that it would take 1-2 years before the plant would produce flowers so we have been waiting patiently.  Last week, after nearly three years, we were greeted with our very first plumeria blossom.  In fact, we can see that there is an entire cluster of flowers about to open.
Earlier this year we finished our debt management program.  Our finances and our relationship also are blossoming.  With hard work, constant watering and patience, both the plant and our finances are reaching their potential.
I think that's worth a fist pump, don't you?
Posts That Make Me Fist Pump
Shameless Self Promotion
Other fist-pumping posts I wrote, or appeared in this week from around the personal finance blogosphere:
TeamEOD Was Recently Included In The Following Carnivals

Carnival of MoneyPros hosted by The Four Hour Workday
Yakezie Carnival hosted by Finance With Reason
Carnival of Money hosted by Carnival of Money
Carnival of Retirement hosted by Save and Conquer
Lifestyle Carnival hosted by Messy Money
Carnival of Financial Camaraderie hosted by Student Finance
Carnival of MoneyPros hosted by See Debt Run
Finance Carnival For Young Adults hosted by I Need Money ASAP
Carnival of Financial Camaraderie hosted by Finance With Reason
Carnival of Money hosted by Carnival of Money