The second Presidential debate was held this week, and as was the case with the first one and the Vice Presidential debate, Facebook and Twitter were alive with comments.  When it was all over, there was a lot of discussion about who "won" the debate.  Both sides claimed victory of course.  Since it's all very subjective with your point of view, there really is no clear cut winner.
Maybe one day there will be a way to determine who actually won a Presidential debate, but in the mean time there should be no question in anyone's mind that the below posts from the last week ROCK.  Check 'em out and show them some love.
Favorite Posts:
Does Your Credit Score Matter If You Don't Do Debt?  from Budgets Are Sexy
I'm Just Tired from Care One Debt Relief Services
How Do You Get Out of Debt?   (Part 1) from Dr. Jason Cabler
Never Say These Things to a Debt Collector  from Leave Debt Behind
Flexibility – The Key to a Working Budget from  Budgeting In The Fun Stuff
I feel the next post requires a bit of extra introduction or explanation.  The point of this weekly roundup is to provide members of EOD Nation links to inspiring and informative posts that could provide encouragement or financial tips to people struggling with debt.  But this next link is really for other bloggers that may find themselves here.  Bloggers need inspiration and encouragement from time to time as well to just keep doing what they're doing.    Fellow writers, read this post, then bookmark it for the next time you're questioning why you're blogging.
If Your Blog Hasn't Changed Your Life, You're Doing It Wrong from Frugal Beautiful
Shameless Self Promotion:
Long Distance Budget :  My weekly post in the CareOne Debt Relief Services user Community
Should You Need a License to Get a Loan? : My latest at My Personal Finance Journey
I didn't get much of a response on last week's roundup as to whether I should post a picture of the Baby Back Ribs I was going to make on Sunday for football…but I'm going to include it anyway.  Come to my house to watch football, and this what you have in store for you (click on it to see it full size – I dare you)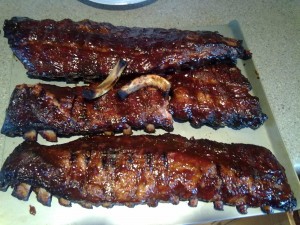 Have a great weekend, and come back Monday for a brand new post!