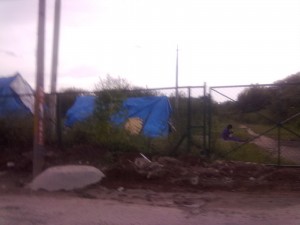 It was a 30 minute ride to and from the office during my two week stay in India, and since I wasn't driving I had a lot of time to look at the scenery. I was surprised to see empty lots in the middle of a metropolitan area of millions of people. The driver told me that owners don't want to leave their property empty for very long, or they'd end up with squatters which are almost impossible to get rid off. He pointed at just such an empty lot, which was dotted with small tin shacks covered with blue tarps. As we passed by I saw a man and presumably his young child sitting outside one of these shacks. That structure, not much larger than a camping tent, was their home.
During our stay, our driver recommended several restaurants to us saying other Americans had enjoyed the food, but he was never able to tell us what he thought of the businesses because they were too expensive for him to eat at. The local food courts I went to for lunch with my coworkers offered lunch for as low as 60 cents. That cost is put in to perspective when you take into account that the average individual yearly income in India is the equivalent of $4200.
I started to reflect upon my own financial problems.
In July of 2009 I enrolled in a debt management program because we had reached a point where we could no longer meet all of our financial commitments. It was an extremely scary time for myself and my family. Over the last 3 years we have worked tirelessly to cut unnecessary expenses out of our lives and to increase income to live within our means and make our day to day struggle easier. We did this, however, while living in a house that doesn't require a tarp to be hung over it, two cars in the garage, clothes in our closets, and food in our cupboards. My wife and I talk about what temp to set our AC at in summer to save money, and we talk about how much (not if) we can spend on Christmas presents for our children. My largest recent medical bill was the cavity filling I had done last week.
The man outside the shack in India would likely trade for my problems at the drop of a hat.
I may have had financial challenges, but they've all been due to my own mistakes. I've had every opportunity to thrive and be successful. The truth is, even in my darkest hour, my financial situation has never been anywhere near poverty. I've always had options. I may have not liked those options, but there has never really been any danger of not being able to put a roof over my family's head, clothes on their backs, and food on the table.
There are certainly people in the United States with those worries on their mind, but in my corner of the world it doesn't slap me in the face on a daily basis as it did during my two week stay in India. It has really affected me, and caused me to think twice any time I start to resent not being able to buy or do something.
Because when you really think about it, not having the funds to put the next round of fertilizer on my lawn really isn't that big of a deal.
May another complaint never be formed on these lips.