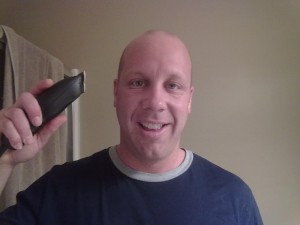 What comes to mind when you think of the stereotypical, sexy, attractive male? If the covers of magazines and romance novels are any indication, it's a tall, tan guy with washboard abs, and of course a head of thick, long flowing hair.
However, there are signs that this viewpoint is changing.
Earlier this week, my friend and fellow blogger Suzanne Cramer wrote a post asserting that financially responsible men are attractive. Well, I've got some news, and it'll knock the socks off of Suzanne and other women who share her viewpoint.
Bald men are more attractive because they're financially responsible.
Don't believe me? Let's compare the costs of having that thick, enviable set of locks to someone who is bald. (BTW, I prefer the term follicle challenged):
Hair cuts:
A local discount hair cut shop will run a guy with hair around $15. Even worse, with some quick research I found that you'll lay down between $23 to $42 per visit at a salon.
On the other side of the fence, I got a clippers for Christmas about 10 years ago, and I haven't paid for a hair cut since. I shave my head every Sunday night.
Products:
Shampoo, conditioner, and hair gel. Yikes, how much does this stuff cost a guy with hair?
If I run out of shampoo, I go rummaging through the showers in my home looking for the discarded shampoo bottles everyone else thinks are empty, and the little slivers of soap stuck to the sides of the shower soap dishes. It makes no difference to me. If I can't find any, a $0.99 bottle of shampoo will do just fine…and it'll last me months.
Hair coloring:
As a man with hair ages, it may begin to turn grey. A DIY box kit has a price tag of around $15 – $20. I don't even know how much it would cost to have it done professionally.
For me? Since I shave my hair off, I won't have to worry about this. EVER.
Are guys with hair financially responsible? I don't think so.
I've got a chrome dome.
I'm a lean, mean solar powered machine.
I'm not just attractive, I'm HOT like Mexico because  I save money, I'm financially responsible, and I'm bald.
You'll never look at the follicle challenged  the same way again.
But sorry, ladies – I'm already married.