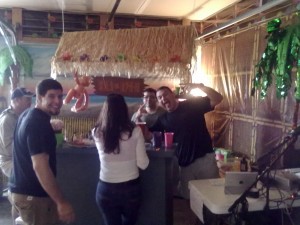 It all started in 1997 as a housewarming party at Vonnie and I's first home. We hosted both our parents, and a few select close relatives. We decided to make it a tradition, and this year we hosted our 16th annual Memorial Weekend Party. It's grown over the years, and quite frankly, it's achieved almost legendary status. Friends and family come from out of town and stay not only at our home, but also the homes of our neighbors. A great time is certainly had by all that attend, however with all it's fanfare comes a lot of work, and certainly expenses.
At the height of our financial irresponsibility, preparing for the party would entail:
Bigger and better decorations each and every year.
Renting tables, chairs and chaffing dishes for the event.
Purchasing several beef ribeyes to cube up for grilled kabobs. A complete beef ribeye runs over $100 each at Sam's Club. Not to mention burgers, brats, buns, chips, fruit and whatever else we felt like serving.
We supplied beer, hard liquour, mixers, and soda. Oh, and don't forget about the bartender that we'd hire through the local liquor store. One year I remember our alcohol bill alone being over $700.
Yep, It was that kind of stupid.
After we enrolled in our Debt Management Program in 2009, we knew that the Memorial Weekend Party as it had been could be no more. Each year since we began our journey out of debt we've discussed not having the party. Each year we look at the numbers, and find a way to make it happen within the funds we have available.
Here's some of the things that we do that allow us to party like rock stars, but keep us within our budget: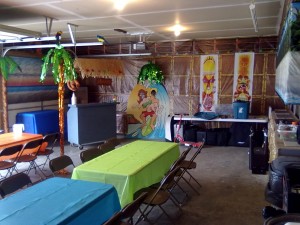 Decorations:
They're really not necessary, but since we already have them, we might as well use them. Each year there may be something that wears out or breaks, and we discuss whether or not we really need to replace it. Example: This year we replaced a small inflatable monkey ($6.00) and a door topper decoration ($4.00)
Seating:
Many of our neighbors have 6 foot tables and chairs that they use for gatherings and were more than happy to borrow us. We also have several friends that have large roasting pans that we used in place of the previously rented chaffing dishes.
Meat: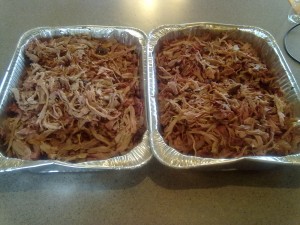 I like to grill, and I love to smoke meats. I used my skills to make 13 pounds of smoked pulled pork (post cook weight). Purchasing this amount from a local BBQ restaurant that caters would have cost $135 – which we have done before. I purchased the meat from Sam's Club and made it myself at a cost of $40 for the meat, and $5 for the charcoal. I also made a 13 pound beef brisket which cost me about $30.
Buns:
We knew the buns (used for pulled pork sandwiches) are going to be used quickly. Therefore we went to the Wonder Thrift Store and bought buns that are close to expiration date for sometimes less than half the regular price.
Side Dishes:
Every family that attends is asked to bring a side dish. We provide the meat, and chips. Every additional side dish is provided by our guests – and do we get some truly awesome creations.
Drinks:
We supplied a keg of beer. Guests are asked to contribute a bottle of their favorite alcohol or case of soda to help stock the refreshments. Since we started doing this, we've never found ourselves in need of supplies to make pretty much any kind of mixed drink desired.
Vonnie's brother and Uncle both have been in bands for years. They both sing, and they both play guitar which makes me want to take a few guitar tutorials so I can join them one day! They were willing to bring some of their amps, and their acustic guitars and perform for us. Nobody on this earth sings "Maggie May" better than my brother-in-law. That's a fact.
After they finished, we hooked up the Playstation 2 and did karaoke courtesy of Sing Star. Since the PS2 is not the newest game console out there, we were able to pick up several of the Sing Star versions, and two microphones cheap from a second hand video game store.
By our count, more than 80 people attended our party to help us celebrate the holiday weekend, and our unofficial summer kick off. The party started at 2 PM on Saturday, and we shut it down just before 2 AM Sunday morning. While there certainly were expenses associated with it, it wasn't Rock Star expensive.
But it sure felt like it.