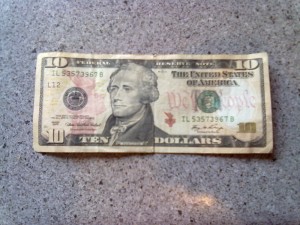 I'm a night owl, commonly staying up several hours later than the rest of my family. I use this time to do various tasks that I never seem to find time for during the day. So it wasn't out of the ordinary when I decided to take up a late night activity to resolve my checking account spreadsheet with my online banking portal. With my wife and daughter comfortably sleeping, and my son hiding out in his room playing Xbox, I sat down at my computer around 11:00pm and got to work.
11:05pm: I notice a debit from Microsoft for $9.99 on that day. I call my son, Tristan, down from his room and interrogated him to find out what he bought, and why he didn't have the purchase approved, and paid for (in cash) before initiating the online purchase as we had previously agreed.  He denied having any knowledge of the transaction.
11:10pm: I needed answers, so I searched and found the xbox live website. Using my main email address I logged on and found the billing information section was completely blank.
11:15pm: Slightly annoyed, I remembered that we have two xbox live IDs. Tristan's account has all the billing information associated with it since he's the xbox user. Mine is just the required parental account. I called Tristan downstairs again to get his email account name. He rattles off some cryptic name in some pseudo language where the letter "E" is replaced with a "3" and the letter "I" is replaced with '1.' Standing up, I point at the chair and say, "Sit down and type it, please."
Xbox live didn't recognize his email address.
11:20pm: Unable to believe that the xbox live website doesn't recognize the email address of a kid that plays xbox every waking second he possibly can, I attempt to reset his password.
Email address not recognized.
11:30pm: Digging my fingernails into my forehead I return to my online banking portal and notice that the charge also mentions the name "Zune," which an online music and movie marketplace.   I call Tristan down for a third time inquiring if he knows anything about "Zune," to which he again denies any knowledge.
11:40pm:  Conveniently, a  phone number was included in the bank account debit entry.  Punching the buttons unnecessarily hard, and dropping an f-bomb for each digit, I dial the number.
A voice says, "Your estimated wait time is 23 minutes." Um, hell no. <OFF>
11:45pm: Staring at the screen in disbelief, I suddenly remember that I linked Tristan's Xbox live account to one of my secondary email addresses, not his email address. I attempt to sign on, but I cannot remember the password.
Seriously?
11:52pm: Following the steps to reset the password, it asks the security question "What is your favorite movie?"  Easy: Happy Gilmore.
Apparently Happy Gilmore was NOT my favorite movie the day I setup the accounts.
The directions tell me that if I cannot remember the answer to my security question to dial the customer support number and talk to a representative.
11:55pm: Smelling victory, I dial the number. A voice comes on the line telling me my wait time is 3 minutes. It goes on to tell me that in order to reset my password I will need the email address, and the answer to the security question.
WHAT? <OFF> Forehead plant onto the dining room table.
12:00am: I'm so frustrated at this point I feel like someone has physically set me on fire.  I can't believe I'm a simple password away from resolving this mystery. I channel my inner Happy Gilmore and go to my happy place. Then it comes to me. The first letter of the password is capitalized.
12:04am: I successfully sign onto my son's Xbox live account and see the billing information. I call Tristan out of his room for a fourth and final time. "What's that?" I ask pointing at the screen that says "Zune monthly reoccurring membership: $9.99."
He responds, "Yeeeeaaah, you're gonna want to disable that.  I signed up for a free month trial a few weeks ago.  I didn't think I'd be charged for anything."
I say, "Your free month trial turned into a month to month subscription. You didn't read all of the instructions when you registered, did you?"
I disabled the membership, looked at him and uttered, "You owe me $10."
He gives me one of those "Are you serious?" looks.
I stare at him, grind my teeth and say, "I'm not paying for your mistake."
He moped up the stairs, returning from his room with a ten dollar bill.  I asked him to sit down beside me and we had a discussion about what we learned from this experience:
Always read the terms and conditions completely before signing up for anything.
Dad has a reason for why he wants all online purchases to come through him first.
Sometimes you make mistakes, and you learn from them.  But you still have to pay for them.
Mistakes don't just affect yourself (emphasizing the hour of my time it took to unravel this mess)
Tristan's a smart kid, and I'm confident he won't make this mistake again.   He didn't like having to fork over $10, but in the long run it will be a lesson worth learning.
As he headed back up to his room, he paused, turned around and said, "Dad, do you think you could write down the user ids and passwords somewhere, so we don't have to go through this again next time we have a billing question?  I'm just sayin'….."
I guess I learned something from this experience, too.