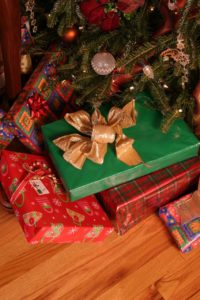 I'm not spending a penny on my wife for Christmas this year, and she's going to absolutely be thrilled about it. With the holidays approaching, conversations of gift ideas are being had between spouses, family members and friends.
My wife and I were having a discussion about tasks that needed to be done yet to prepare for hosting Thanksgiving at our home. She got a little off topic, listing other less Thanksgiving critical tasks she wanted to have done. Sensing I was about to go into my usual speech about prioritization and doing only the things absolutely needing completion by Thanksgiving, she paused and blurted out what she wanted from me for Christmas.
"Can I have a Honey-Do list for Christmas?"
She started listing things she wanted done around our home. I tried my best to look only half interested as my brain popped into overtime trying to remember everything she was saying, while at the same time recalling other small tasks she had listed in recent weeks and months. I didn't want her to know I was paying close attention. I wanted this to be one of those presents that when given, she would be surprised that I had paid attention and followed through with it. This idea was gold, I just had to work out some of the details.
Here are some of the things my wife suggested for her Christmas present list:
Paint master bathroom
Clean out and organize laundry room
Clean out and organize downstairs closet
Call insurance company and have nick in van windshield fixed
Things she has also mentioned in the last few months I would add to the list:
Fix small hole in bedroom wall and paint
Install organizers for master bedroom closet
Get tires rotated on van
paint basement
Making a list, printing it on fancy paper of some sort, and giving it to my wife for Christmas is the easy part. There are two slight caveats in my plan to give my wife this list of tasks she wants completed:
Not Free
While the list itself has no cost associated with it, some of the items on the list will require the purchase of supplies to complete. We'll have to work together to prioritize and budget for the items needed for some of the tasks.
Time
The biggest obstacle to completing many of these tasks is time. With kids, jobs, and other life commitments, time to do extra cleaning, organizing and painting is hard to come by. The good news here is that I have a secret weapon: I have a lot of vacation that I need to take by the end of the year. I plan to take the last two weeks of the year off, and dive into this Honey-Do list.
I might have to give her this present early so she knows what I'm doing, OR I might just keep quiet and give her the list with some of the items already checked off.
In either case, it's a present my wife will certainly appreciate, and we will both reap the benefits from.
Have you ever given a Honey-Do list as a gift? What would be on the list if you did?