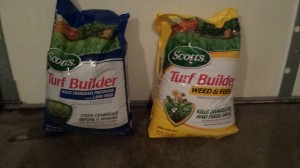 It takes money to make money.
It's a common phrase you may have heard before. My interpretation of the phrase boils down to investing, whether it be in stocks or a business. If you have money, it gives you more options to be able to generate more money.   Over the weekend I found a similar but less known assertion to be true.
It takes money to save money.
One of the things that I had let go of while we were paying off our debt was our lawn care. I love having a lush green lawn, but achieving the look of a golf course fairway requires regular applications of fertilizer, weed killer as well as consistent watering. Some summers I started off well with the first application or two, but when it came time for the later applications the money just seemed better spent elsewhere. Other summers I didn't even try.
Since we completed our debt management plan in January, my wife and I have agreed to budget the purchase of the 5 yard care applications during this spring, summer and fall.   So this weekend I headed to Home Depot to pick up the supplies for the first application.
I closed my eyes and took in the familiar smell of fertilizer as I entered the lawn care section and flashed back to great summer memories.   When I opened them, I focused on the display of the different brands of fertilizer. I quickly located the bags of Scotts products, the brand I've trusted for my entire adult life.   At that moment, I noticed two things:
The first two applications were in stock
If I bought the first two applications right now, I would save 20%
I threw both bags into my cart and headed for the checkout counter. Standing in line, I remembered that in years past I would be lucky if we could allocate the funds to buy one application, and would never have been able to afford two applications at the same time.
By having more funds available in our budget, I was actually able to save $21.
My very wise mother always says that it's not a good sale if you buy something you weren't planning on buying anyway. In this case I was going to eventually buy the second application, so buying it now not only saved me money, but it also ensures I have the product already sitting in my garage in a few weeks when I need to put it on my lawn.
It takes money to make money. It takes money to save money. This financial freedom thing gets better all the time.