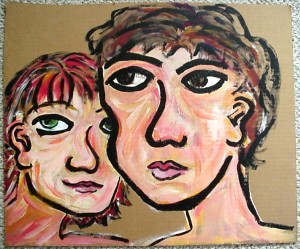 Couples argue. Vonnie and I are no different.
After a week vacation in Kentucky and the following weekend out of town for my class reunion, we needed to do a serious budget scrub.
I knew we had exceeded our original budget for both activities, and I began to outline just how much. I  hadn't done a good job of keeping track of, or communicating to my wife during that two week period as to when the over spending had occurred, and by how much. I just kept thinking to myself, we don't have anything planned the second half of the month, that will just even things out.
The problem is, those overages really added up, and we were now faced with bare bones funds for the last two weeks of July. Our budget scrub turned into a knock down, drag out screaming at each other kind of discussion.
Vonnie questioned why I wasn't smart enough to allocate funds to chip in for gas for the pontoon boat our group rented in Kentucky.
I asked her why she thought it would be a good idea to suggest to our friends to go out for dinner at a sit-down restaurant when we had agreed that lunches were going to be done on the cheap.
This was followed by more accusations and eventually degenerated into the kind of name calling yelling match that no longer had anything to do with finances. Eventually, we just stopped talking. I on the chair, Vonnie on the end of the couch. Both of us just staring at the wall.
Silence.
"You need to communicate better," she said, finally.
"I know," I said, "and you need to do a better job of remembering how we planned to spend our money."
"I know," she repeated.
I came off the chair, crawled over to her, and laid my head on her lap.  Apologies were exchanged, and we agreed that we had both contributed towards the budget failure. We also re-affirmed to each other something we had talked about many times before:  it would take the efforts of both of us to make a budget work.  Then the most wonderful thing ever happened.
We had "make-up budgeting."
Pencil lead and numbers went flying everywhere in a whirlwind budgeting session. When it was over, Vonnie and I sat on the couch together looking at crumpled pieces of notebook paper strewn across the living room. But squarely in front of us was a plan to successfully get us to the end of the month, and to our next payday.
Couples argue, and couples fight. You cannot have two people living in the same space and not expect conflict every now and then. Having two people with very different perspectives trying to figure out how to handle the finances is like a powder keg just waiting to explode.
But the great thing about being crazy in love with someone is that when the yelling and accusing is done, we can smile at each other, put it behind us and work out a solution together.