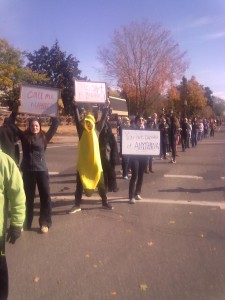 Yesterday, I ran the Twin Cities Marathon for the third time. I'm not an elite runner, so my goal isn't to win, but to simply finish with the best time possible. But I approached this one a bit differently than the previous two. I wanted it to be about more than just an internal struggle to finish. I wanted to fully experience everything the marathon had to offer.
Marathons across the United States have become more than just a race, they have become events with cheer zones, bands playing along the way, people dressed up in costumes and spectators with funny signs to lift the spirits of everyone.
I talked with a man next to me in the starting corral who was holding an American Flag on a pole. He does it a couple of times a year to show support for the greatest country on planet Earth.
I wished a young woman a happy birthday who was wearing a shirt advertising she was running a marathon on her 21st.
I laughed at humorous signs held by spectators  that said things like "This parade sucks!" and "Has anyone seen the beer tent?"
I gave countless high fives to people including a little boy who was around 5 years old. His smile rivaled the Grand Canyon as I zipped across the street to slap his hand as I had watched runner after runner go by him ignoring his outstretched arm.
I didn't just "do" a marathon yesterday, I fully experienced the 31st running of the Twin Cities Marathon.
I approach life much like how I approached the marathon. Even though I'm in debt, I want to fully experience life. Like everyone else, I have financial commitments that need to be paid each and every month including a mortgage, a car payment, utilities and a payment to my debt management plan. Most people don't have the last one on their list but just because I do shouldn't disqualify me from using discretionary funds as I chose.
I may buy an expensive cut of meat and make my wife beef Wellington for Valentine's day.
I may save up money and take my family on a vacation.
I may even splurge on throwing a party for 80 of my closest friends and family.
As long as I've met my financial commitments, saved up enough funds, and it all fits within the budget, I'll sleep easily at night. My wife and I racked up huge debt by living in excess for years, and we're living with the consequences of that by paying on that debt every month. But it's equally important for us to learn to live within our means while still doing fun things. Because for us, life is about memories and surrounding ourselves with people that share the same perspective. That's not going to change.
Yesterday, I finished the marathon in 4 hours, 5 minutes, and 47 seconds. I missed logging a new personal record by 6 seconds.
6 seconds!
I may feel a little disappointed now, but in 20 years I won't remember my time, nor will I care. But I will remember the smile on that little boy's face when I slapped his little red gloved hand, and I'll have the pictures I stopped to take of a man in a banana costume, and the view of the finish line at mile marker 26.
Those experiences far outweigh my race time. I can run another marathon and get a better time, but I only have one shot at life.
I don't want to just "do" life. I want to live it. Love it. Experience it.