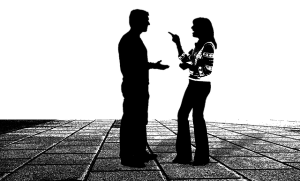 My wife is coordinating a ladies night out to take place mid-November. The original plan was for the group of women to start at our home, have dinner at a nearby restaurant, then head downtown to an art activities place to paint and drink wine. Since there will likely be alcohol involved, there was some discussion about safe transportation.
My wife began investigating the option of renting a party bus.
After talking to several party bus companies and comparing services, options, and prices she gravitated towards one specific services. Even the cheapest service was rather expensive, but my wife was really excited about the idea of making the night really special through use of the party bus.
Did I mention she wanted to pick up the entire cost of the party bus?  My first reaction was it was just too much money. But my wife was so excited, and the success of the evening meant a lot to her.
We sat down and looked at our budget.
We worked through how much we would have shave off each week's entertainment budget for the next month to save enough money to pay for the party bus.  Later that day, the party bus representative called my wife just to check in. We were seconds away from reading off our debit card numbers to pay for the party bus, but my wife was a little hesitant in making a decision.. She looked at me to push her in one direction or the other.
"Why don't we think about it over the weekend," I said. It seemed like a reasonable action, given it was late Friday afternoon.
That might be the end of the story. This could have been a blog post about how if you really want something, even if it's not a life necessity, you just sit down and work it out with your partner, and/or your significant other. This could have been a post about compromise, and how even though I didn't think the party bus was a good use of our funds, I recognized that it was something my wife really wanted to do and worked with her to make it happen.
But, that's not how the story ends.
I know my wife very well. She operates in the moment. When she sees something she wants, she goes for it. It's one of the infinite reasons why I love her so much. If not for that attribute there's a chance that we might have never become a couple, bought our first home, or had countless other life experiences. However, there's other times when I feel like we need to slow the decision making process down just a little bit to make absolutely sure about the direction we're headed.  This was one of those times.
Over the weekend I casually stated the case for not getting the party bus. I expressed concern over the value of having the party bus when they wouldn't be on it very much at all. They were essentially using it for transportation between a few locations during the evening, when normally riding on a party bus is the main attraction of the evening. I also offered alternatives for safely getting the ladies where they needed to go. She seemed to simply absorb the information, and didn't say much.
On Monday, the party bus representative called to see what my wife had decided. Honestly, her response surprised me. She said that it was just too much money for the amount of time they would be on the bus.
She passed on the party bus service.
This IS a post about budgeting, compromise, and spending your money on something that is totally unnecessary. I was ready to tighten the budget for a month to save up the money as a special addition to my wife's ladies night plans. Had she told the representative she wanted to book the bus, I would have been 100% on board, no pun intended.
This post is about much more than that.
This post is also about value, weighing the pros and cons of every decision, and delayed gratification. She could have lived in the moment and booked the bus on the Friday when she talked to the representative. After thinking about it for a few days maybe she would have regretted her decision. Maybe she would have realized on the night of the event that she paid a large sum of money for very little value.
In either case it would have been too late.
When was the last time you purposely saved for and paid a large amount of money for sometime completely unnecessary? Did you later regret it, or did it turn out to be everything you hoped it would be?