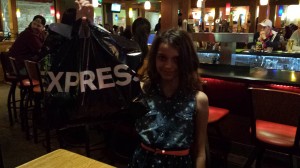 Today is officially my daughter's twelfth birthday, but we celebrated it over the weekend.  From our observations, as well as by asking her directly, the thing she wanted the most for her birthday was clothes.   This was not surprising in the least, as my little girl, who's biggest care in the world used to be wondering when her hair would be long enough to be put in a ponytail, has transformed (seemingly) overnight into a young woman who stares endlessly into a mirror primping and futzing with her hair, even applying some makeup before heading to the bus stop.
The likes of a pre-teen are difficult to get a handle on, so my wife and I were skeptical that we could successfully purchase anything our daughter would actually approve.  After trading several ideas that fell to the floor with the soft thud of failure, a sentence flew out of my mouth before I could fully comprehend what I was suggesting:
"Why don't we give her a shopping spree for her birthday?"
Vonnie's face stared back at me with an expression I couldn't quite put a label to.  An odd combination of indecision, confusion, with just a touch of, "That's the dumbest idea I've ever heard."  But after a few moments the lines on her face softened into acceptance and even approval.  When we told Tori about our idea, she flung herself from the couch hugging both of us wildly.
On Friday night we entered the mall.  Vonnie had the agreed upon shopping spree limit in cash in her purse.  We told our daughter to choose wisely, as when the cash was gone, her shopping spree was over.  Tori bounced through the door, literally bubbling with excitement.
However, with each store we exited empty handed, that excitement deflated.  My daughter has entered that period of life where social circles and what you wear become very important.  She is also in that awkward stage where her mind is maturing faster than her body.  In her mind she is a young woman, but her body is still that of a little girl, and that frustrates her to no end.
After several stores, I even got the impression that I was hindering the entire operation.  As she scanned through the racks at one store, she held up a shirt to examine it.  Our eyes met, and her face broke into one of uneasiness that I could only interpret as she felt weird that her father was standing in the same store as she shopped for clothes.
It got worse.  My wife suggested they check in a particular store that specialized in beachwear.  She quipped something about it being summer soon, and having some beach-like shorts and shirts would be fun.  I stopped at the doorway to examine a 6 foot sign with the words, "Sun's out, buns out" plastered across a woman's bikini clad bottom.  At that moment in time, I was sure it was the worst marketing idea ever designed. I waited outside.
They quickly exited, again empty handed.  I could see the disappointment growing in my daughter's eyes.
At the next store, I again told my wife I would wait outside.  I expected them to exit quickly, but as time lingered on I suspected the result at this store was going to be different.  I sat outside on a bench cradling my hands reliving countless Daddy/Daughter shopping trips at the clothing store for little girls that stood just two doors down from where I sat.  I remembered a younger Tori, coming out of the dressing room adorned in sparkly shirts with smiley faces or phrases like, "Daddy's Girl."
"Going to Barnes and Noble," was the text I sent to my wife.  Once in the bookstore I drowned myself in a sea of self-pity and BBQ books.
When I met them, Tori was again bouncing as she walked towards me holding a bag.  On our way out of the mall, we decided to stop and grab something to eat.  Tori ordered her usual, a mix of Sprite and grenadine which we commonly called a kiddie cocktail.  I stole some of her French fries, and she gave me her patented angry eyes look followed by a giggle.  We joked about the napkin being the perfect dress for her purple school ruler she had named Lola.  She asked if I wanted to see what she had picked out.  I nodded eagerly, as she cleared half of our table and described each piece as she laid it down.  I took pictures of her making goofy faces, as we both laughed.  Suddenly, she was my little girl again.
Happy birthday, Tori.  Grow up gently, for your daddy's sake.