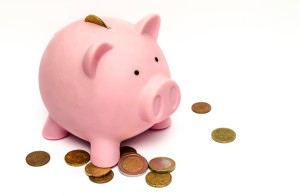 My son had been eyeing a new graphics card for his computer. The one he had was good, but he really wanted the next level up. He's been working a little over 20 hours a week at his part time job as well as earning straight A's in school. The card is expensive, but I didn't see any reason why he couldn't save up and purchase it if that's what he wanted to do with his money. He's required to save a certain amount out of each paycheck for his own car, and for college. But, if he could reduce his weekly spending and save up enough from his discretionary funds, he would be allowed to buy the new part for his computer.
A few weeks ago, he came out of his room and asked me to come look at something. He had found a graphics card in the class he wanted on sale, and wanted to know if he could get it. The problem was he would have to take some money out of his savings account to buy it as he hadn't saved up enough from his spending money quite yet. It was a great sale, and it would have been a good thing for him to take advantage of the reduced price.
I gave him the green light to transfer what he needed into his checking account.
There was one condition, however. He had to replenish the money he took out of his savings account. I told him to think of it as a loan from himself, and loans have to be paid back. He agreed, and within a few minutes his new graphics card was on it's way.
I took the opportunity to highlight two very important financial concepts that were used in my son's quest to buy his new graphics card:
Having a Savings Account is Pure Awesomeness
Whether you call it an emergency fund, a slush fund, or just a plain old savings account, it provides financial flexibility. It can shelter your day to day budget from the blow of an unexpected expense. But it can also give you the ability to take advantage of an unexpected opportunity. My son saved over $150 on his graphics card by having extra funds available to cash in on the sale.
Treating Savings Withdrawals as a Loan Keeps You Financially Ready
Having funds set aside to handle an unexpected expense or take advantage of an opportunity is great, but you never know when the next expense or opportunity will present itself. If the withdrawal is treated as a loan that must be paid back as soon as possible you keep yourself financially ready for whatever life may throw at you next.
Instead of making him articulate a plan at that very moment as to how he would pay back his savings account, I wanted to see if he would handle it on his own. A few weeks went by with no action. He didn't put any extra money into his savings account, and no mention was made of repaying his loan. Then something happened.
He came home from school and said he had negotiated the sale of his old graphics card. A friend stopped by and picked up the card, and a wad of money appeared on my son's nightstand. I let it sit there for a few days before I asked him about it. He took off his headset, paused his game and told me that at some point he needed to stop by the bank and deposit it in his savings account to repay his loan.
I nodded my head as I walked out of his room. Lesson accomplished.
Do you use your savings to take advantage of a great opportunity?  Do you treat any use of savings as a loan from yourself that must be paid back?