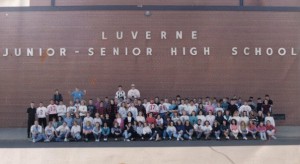 Smokin', drinkin' and partying too, we're the class of Ninetytwo!
This past weekend I traveled to my hometown to celebrate my 20 year high school class reunion (yikes). My classmates who organized the reunion did a spectacular job putting together an entire weekend of events ranging from a golf outing, to an outdoor meet and greet, a dinner, a pool party and a reserving a special section at a community event involving live music and rib tasting.
Vonnie and I had a blast at both my five and ten year reunion, so we were looking forward to this one as well.
I really enjoyed reminiscing with classmates about old times, finding out what they're up to now, and meeting spouses. I even had the opportunity to catch up with one of my best friends from middle school that moved away right before sophomore year. Even though he didn't actually graduate from our high school, he's kept in touch with many of us such that he was extended an invitation to the reunion. Honestly, that kind of conversation was really all I wanted to get out of the event.
However, there were so many events, the evening ones extending late into the night in a party kind of atmosphere, that I got burned out. Vonnie and I turned in rather early both evenings. The problem was, while it was certainly fun to meet up old classmates, I no longer feel connected with them. Trying to party with my classmates from 20 years ago felt a lot like that song on the radio these days, "Somebody that I used to know."
It felt almost forced.
The weekend definitely wasn't cheap, either. Between the reunion registration fee, the hotel (my parents no longer live there), gas and food/drink we shelled hundreds of dollars over the course of the weekend. If I had to do it all over again, I would have skipped Friday, and just attended the events on Saturday. There were some classmates that did exactly that. I still would have had the experience that I wanted out of the reunion, and would have cut my expenses by at least half.
Our school has an alumni newsletter that is published a couple of times a year, and they usually highlight reunion events. I've noticed that generally as the years pass, less and less people attend reunions. As I drove home, I honestly wondered if I would go to the next one.
What do you think, friends…have you attended a high school class reunion? Did you think it was worth it? Are you going to your next one?