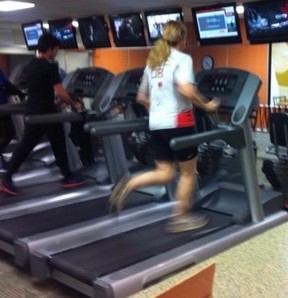 Happy Wednesday, EOD Nation!  I have a very special guest post for you today from friend and fellow blogger Prudence Debt Free.  She's been a regular visitor to Enemy Of Debt for what seems like as long as I've been writing here.  Once I followed the link to her site and started reading I was hooked.  Today, she brings her story to Enemy of Debt.  Enjoy the post, and give her some comment love – then go check out her blog.  You'll be hooked too!
DD3 = Third dear daughter
DH = Dear husband
DD2 = Second dear daughter
DD3's Road Race & My Inspiration
Two Sundays ago, DD3 ran her first 5 km road race – a community event in which her high school fitness class took part. As I cheered her on, I found myself wishing that I was one of the runners. It's been almost ten years since I've taken part in any kind of race, and I miss it – the hype; the adrenaline; the physical exertion; the satisfying high of completion; and the sense of sharing in an experience greater than the sum of its parts. DD3 was very happy with her run, but as we walked back to the car, she said, "I don't know if I want to take the fitness class next year. If I did, I'd have to do the 10 km run." I was struck by an inspiration. "I'll run it with you," I said. "We'll do a 5 km race in the spring, and we'll do the 10 km route next October."
There's nothing like having a goal to get you motivated. Sunday evening, when I went to the gym, I ran on the treadmill with new purpose. I had read Travis' post about running the marathon  and his plans to better his time by training for pace, and I decided to adopt the same strategy. After doing leg weights for the first time in months, I ran intervals – one minute fast followed by one minute moderate – for twenty minutes. I'll work out four times per week, I thought to myself. And I'll increase the speed and length of the fast intervals until I'm confident that I can run 5 km in under 25 minutes. I went home feeling very admirable.
But when I got out of bed Monday morning, it hurt to walk. Tuesday was even worse. So was Wednesday. I had to brace myself every time there was a flight of stairs to descend. I had to ease myself down every time I sat. Picking anything up off of the floor was sheer torture. I didn't do another work-out last week after my inspired Sunday effort.
I had trained for pace, but I hadn't paced my training.
Planning debt-repayment pace
Two and a half years ago, DH and I began our journey out of debt.  Years of poor financial management followed years of money stress due to DH's job loss and career crisis had landed us with a debt totalling $257,000. After listening to the CD version of Dave Ramsey's book The Total Money Makeover, we saw the light. We would get our financial act together. We would cut back on our lifestyle. We would budget. We would face down our wasteful spending patterns. And we would become debt-free within five years!
After year #1, we were very close to being on track. $50,000 in debt eliminated! But during the second year, our pace slowed way down. Huge expenses combined to cramp our progress: $10,000 for a new roof; $4,500 worth of unexpected vet bills; the removal of a dangerously rotting tree coming in at $2,000; DH's business accountant's advice to divert $4,500. Our debt-repayment for year #2 ended up being $28,000 – a healthy number, but nothing close to our first year's total. And not enough to allow us to reach our five-year goal.
Pacing debt-repayment plans
I think we're lucky that our first year was so encouraging. It gave us needed confidence to take the challenges of our second year in stride. If all of those expenses had happened during year #1 of our debt-reduction, we just might have given up in discouragement. There's a mental game involved in debt-repayment, and it has to stay positive if it's going to work. Travis realized early in his marathon run that he was not going to achieve his goal time, but he made the decision to accept that fact and to keep running. The result? He ran a marathon! And he had a great time. After year #2, we realized that we almost certainly would not become debt-free within five years, but we've accepted that fact, and we're still on the journey.
Recognizing Tough Inclines Along The Way
As Travis approached the hill towards the end of his marathon, he psyched himself up and took it on. It was no doubt harder and no doubt slower, but since he knew it would be, he had the perspective to talk himself through it. During our journey out of debt, we have also had to recognize a variety of "hills" along the way. Not only big or unexpected expenses, but times of stress too. During the Christmas rush, for instance, we know that DH's home business will keep him working non-stop, and that we'll probably spend more money on prepared meals to help us manage. And when unexpected stress occurs, as it did last week when two terror attacks occurred in Canada – one of them in our city – we recognize that we're thrown off. That we slip-up. And only stumble forward.
The mental game involved in debt-reduction requires that we alter our focus depending upon the situation. Sometimes, we focus on tightening our budget, on exercising our frugality muscles, on doing without. At other times, it's about saving for a needed purchase so that we don't go back into debt. Sometimes we focus on gratitude for all that we DO have instead of dwelling on what we want. At other times, all we can do is to hold steady as we overcome a steep incline, and not give up. There's a long road ahead, and we can't see all of the challenges that will come our way – any more than we can anticipate the bursts of incredible encouragement. We just know they're there. And we're ready for them.
Pacing My Training
This past Sunday, I did some light weight training, and I went for a slow, steady jog outside for about twenty-five minutes. Monday morning, I woke up with no pain, and DD2 and I went for a run together in the evening. Gradually, I will build up my strength, endurance, and pace. And when I run the 5 km road race in the spring with DD3, I'll be ready for it.
What do you do to manage your pace for financial or fitness goals? Have you ever been too aggressive, ending up with the muscle pain that I experienced last week? Is there an analogy for that pain in finances?