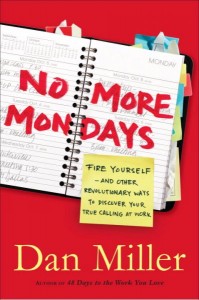 Hello everyone! Happy Monday! I am going to share some news with you today that I am excited about. We have made a pretty bold, but confident decision that involves my employment.
You could say it all started with two books, but really it started at the time I started working. We all dream of doing what we want to do as opposed to what we feel we have to in order to survive financially, but actually doing it is a completely different story. The books that encouraged me to eventually take the plunge was No More Mondays
and 48 Days To The Work You Love
by Dan Miller.
Dan has a special way of getting you to understand that you do not have to continue saying the popular mantras "Thank God it's Friday", and "Oh no it's Monday." The point of his books are to get you thinking about working in your passion so that work is not like work at all. If you are doing what you love, what is retirement? If you have not read either of those books I highly recommend that you go to your library and check them out.
Behind The Scenes
In 2008, when I first read 48 Days To The Work You Love, it opened my eyes to something different. At the time I was in school working to become an appraiser. I hadn't picked that career because I loved it so much, although I am not saying it would of been a bad job—I picked it because it was stable and had good income potential. (Imagine for a second how busy any appraiser has been over the last few years.) It's stable because even in a bad market appraisals are still needed. I liked real estate and figured that the stuff I would learn as an appraiser about the value of real estate could help me when the time came to invest in real estate—something I cannot wait to start doing by the way.
So 2008 rolls around. We're doing our The Total Money Makeover
, and Dave Ramsey introduces me to Dan Miller. I thought to myself, "I would LOVE to work in something that I was so passionate about that I would never want to stop doing it." I read the book and immediately realized my passion. It was right in front of me. I was passionate about debt freedom and more specifically encouraging others to pay off their debt and avoid it altogether.
Dan Miller is the very reason Enemy of Debt came to be. (You can connect with Dan Miller at 48days.com) He told me to get an audience, and that starting a blog, was a very good way to start. He taught me that working the normal 9-5, was not the only way to have a career. He also taught me that I could have multiple income producing jobs to earn money. Now all I needed was time and patience.
The Plan
I created a plan. My plan was fairly simple.
NEVER borrow money ever again!
NEVER say "I can't, but instead say I WILL!!"
Start Enemy of Debt! I WILL!
Pay off debt! I WILL!
Become a Certified Financial Counselor! I WILL!
Start EOD Financial Coaching! I WILL!
A Plan Near Completion
I am so happy to announce that almost two years later, this plan is starting to see the light of day. As some of you know, I gave notice at the job I've had for 4 1/2 years. My last day is February 13th, and although I will miss making that money, I decided to move forward and make that money and then some, working in my passion. REAL debt counseling! I am looking to launch EOD Financial Coaching by summertime. First I need to become certified and decided long ago to attend Dave Ramsey's program to do so.
I am excited to say I will be attending his April workshop, and at that moment in time—a dream will be realized. Something I never imagined doing before Dan Miller, will suddenly be real. I will have resisted following the normal way to employment, and avoided the chance of hating my career forever.
I will be what I want to be!
I will do what I want to do!
I will love what I choose to do!
I will truly LIVE!
I am pumped! Can you tell?
The Benefits Of A Dream—My Dream
So this conversation happened last week when my wife came up to me and said she wanted to make a suggestion. She quickly suggested that I quit working at Papa Johns and just stay home. This floored me at first, and quite honestly my self-esteem flew to an all-time low, as did my dignity. My wife instructed me to quit the macho stuff, and listen to why we would benefit. The following benefits are what she so beautifully noted.
I will now be a stay-at-home Dad. That's right, I get to spend every possible moment enjoying my beautiful children. As time consuming as that will be, I cherish the opportunity. I already cook, but will now take on full responsibility of cleaning our house so my wife doesn't have to. (Psst, Alana really likes that part.)
I will be able to focus more intensely on school. To be honest I am back and forth on what I want to get still, but I want a degree to say the least. One minute it's a Bachelor's in Finance, and the next it's Psychology. Both are helpful but I think I fit in to the psychology side of things a little better. Besides, 80% of your ability to manage your money is your behavior, while only 20% is head knowledge. I think a degree in Psychology will help me become much more motivational in my efforts here.
I will be able to give Enemy of Debt more attention, so that I may focus on growing the debt free community around me. I love all of you and so I want to love more of you. Spread the word. Enemy of Debt will be THE place to go in 2010 to stay motivated and learn the fine art of debt elimination through responsibility.
I will be able to work on, and build my other blog Logos4You.net. Where I create logos, banners, etc. for websites and blogs. It needs lots of attention.
I will be able to hold more Financial Peace University workshops, and devote more of my time to the public speaking part of leadership and motivation. I plan to master this skill, which is why I have said yes to every scary speaking engagement that I have been asked to do. As some of you know I recently was asked to guest lecture to the class "The Psychology of Money and Wealth." I have since been asked to do it every semester as a paid guest. It pays off to step outside of your comfort zone.
I will be able to attend Dave Ramsey's Certified Counselor Training 9 months early. The original plan was to wait until we had our Emergency Fund fully funded before doing this, but ironically I got an email a few days after our big discussion letting me know that FPU Coordinators will be able to get a HUGE discount on the cost of counselor training. Was it a sign? Who knows, but I am jumping all over it!
I will be able to launch EOD Financial Coaching! This is the biggie for me, because this is my baby! This is what I breathe, eat, sweat, sleep, and embrace completely! An accomplishment like this coming from a former pessimist is awesome! I didn't used to believe, so I didn't achieve. As soon as I started to believe, things started to change. Which is another reason I am convinced psychology will be the degree I ultimately go for, but hey, what's stopping me from eventually doing both? Only myself right? That's what I have learned.
Debt Freedom Gave Me The Ability To Capitalize On Opportunity
I have said many times that debt freedom gives you opportunities. The thing is that you always have the same opportunities but when you have debt you do not always have the chance to take advantage of them. They're always there, but debt steals hope and robs you of your potential.
If we still had debt:
I would not have been able to take an entire 5 weeks off unpaid.
I would not have been able to quit my job.
I would not have been able to raise my kids full-time. (not fans of daycare)
I would not have been able to give $150 to one of you for Christmas.
More choices are available to me now that I have no debt. Become debt free and realize your potential!
Do what YOU love, and find out why life really is what YOU make it!
If you liked this post do not miss my post on Wednesday. I will talk more specifically about debt freedom and lifestyle design and how they make a great team!