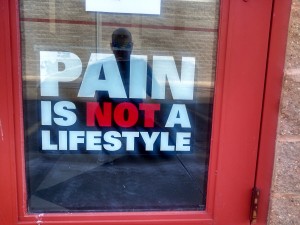 I walked by a chiropractor's office a few weeks ago where a sign hung in the window that read, "Pain is Not a Lifestyle." The meaning of the sign was obviously referring to physical pain. There is no need to walk through life in pain when the people inside the office can relieve it for you. But as I read the sign over and over, a wave of emotion and memories flowed through my consciousness as to how my life used to be full of so much pain due to my finances.
I remember all the things I had once done to try to keep our finances above water. I remember late nights of applying for new credit cards, and transferring balances to them. I remember withdrawing money from credit cards using ATMs on my way to work so I could portray the appearance to my wife that we had enough funds to whatever activity we had planned for the next weekend. As we closed in on the brink of financial ruin I remember laying in bed alternating watching the minutes tick by on the clock and staring at the ceiling wondering what else I could do to generate funds to keep the lie alive. Life isn't supposed to be like that.
Pain, even if it's financial pain, should not be a way of life.
It has been a long road to rid our life of financial pain. My wife and I had to drastically change our lifestyle. We have gone through periods of time where we have argued so frequently that it tested the very fabric of our marriage. We have made it through those times with the support and encouragement of friends and family and the knowledge that if we could just make it to the end of our debt management program, a life free of that financial pain is waiting.
We are now just eight months away from that goal.
I saw a motivational quote just last week relating to fitness that I immediately adapted to finances:
Getting out of debt is hard.
Living with debt is hard.
CHOOSE YOUR HARD.
When I look back at our years of living with debt, just trying to get to the next payday without a plan for the future, I do not understand why we didn't seek help and do something about it sooner. Choosing to live with the financial pain of debt is a "hard" that cannot be won. It never ends. If I have choose a difficult task, I choose the one that I can win.
I chose to get out of debt, and live a life of financial freedom.
Are you living a lifestyle of financial pain?  Which path have you chosen?