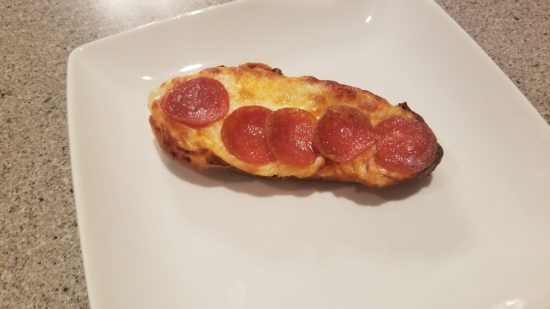 Throwing food away is a huge pet peeve of mine. It might as well be money I'm throwing in the trash. I usually eat leftovers for lunch and will vacuum seal and freeze most everything else. But I also hate subpar food. These conflicting interests creates a dilemma when it comes to hot dog buns.
I enjoy a hot dog or grilled bratwurst from time to time. The problem is, between the wife and I having such a meal would never consume an entire package of eight hot dog buns. Buns can be frozen, but when thawed again they're never quite the same. A dry bun ruins a good bratwurst. I had to find another use for leftover buns. The answer to my conundrum is one of my favorite foods.
The solution to the riddle is a single word: Pizza.
Dual Purpose
A hot dog bun looks a lot like a little roll of French bread. Cut it in half lengthwise and it looks like the crust of a French bread pizza.
Toppings
Using the hot dog bun halves for our pizza crust, I purchased some basic toppings from Walmart:
Prego Pizza Sauce (14 oz): $1.58
Shredded Mozzarella Cheese (8 oz): $2.22
Hormel Pepperoni (3.5 oz): $2.28
Obviously you could add any other toppings you want for an additional cost.
Total: $6.08
Baking
After assembling my mini French bread pizzas, I bake in an oven pre-heated to 425 degrees until the cheese is melted an golden brown (about 5-7 minutes).
Versatility
Using left over hot dog buns for the base of mini French bread pizzas provides a lot of flexibility:
The remainder of the buns could be used all at once for a meal or you could use them individually for snacks.
The toppings are completely up to you. The same ones can be used, or you can mix it up
While frozen and thawed buns may not be the softest to use as buns, it doesn't matter here. Freezing the buns has little to no effect on them when baking them as a pizza crust.
I like to enjoy the occasional grilled hot dog or bratwurst, but don't enjoy freezing the left over buns to be used for a later grilling adventure. I do however, love pizza. Using leftover hot dog buns as a base for a French bread pizza is the perfect solution to repurposing left over hot dog buns.
How about you, EOD Nation, do you repurpose leftovers? What's your favorite?