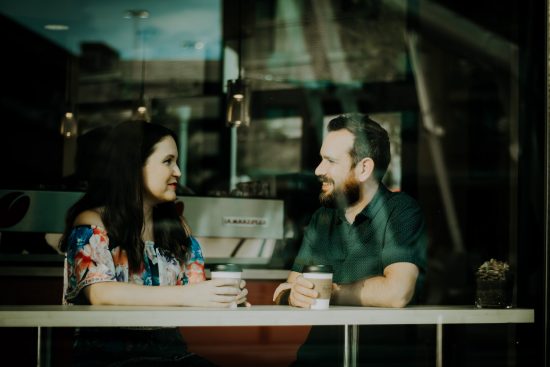 Communication is key between people in a relationship who manage their finances together. Over time people may become less conscientious about staying on the same financial page with each other. My wife and I realized this had happened to us, which stimulated discussions on how to best reopen the channels of communication. Our financial communication now consists of  three major parts:
Income / Bill Paying
We have a bimonthly income and bill cycle. On the first and fifteenth of each month we talk about the income that came in, and the bills that are paid. We both know how much income we have as well as what bills we have, how much they are, and when they need to be paid.
Daily Account Balance Reconciliation
We reconcile the checking account balance every day. My wife keeps track of the balance and transactions on her iPad, while I access the account online. She subtracts spending transactions and adds income for the day. The account balance minus any non-posted transactions must equal her balance before the discussion is over.
Spending Plan
We talk about short term and longer term spending needs. Short term goals include what activities or wants and needs we have for the next week. Longer term goals are things we need to spend money on in the next month or two.
If I'm being honest, it was a little difficult to get going with these kind of discussions again. I had to explain the amount of certain bills, and finding mistakes why our balances didn't match was painful sometimes. It definitely got easier once we got going. It's good we both know the details behind each bill so we can jointly evaluate bills for value and if we need to make changes. Once we got in the groove we very rarely mismatch our balances.
Having good financial communication with my wife has a long list of positives. The best way to summarize them all is simply we are able to plan our future together. I have to say, that future looks bright.
How about you, EOD Nation, do you and your significant other handle your finances jointly? How do you do it?