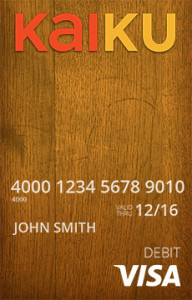 My wife and I are back on a cash only spending plan, and it's working out fabulously. It keeps our spending in check and within budget. Some of the comments on my recent posts on this subject have made a valid point, however. Dealing with only cash means there are times when I may be walking around with a significant amount of cash in my wallet, and I'd be lying if I didn't admit that makes me a little nervous.
One solution to this problem could be a prepaid debit card. Not just any debit card, but a Kaiku Visa Prepaid Card that behaves as if it is attached to a bank account. Here are some of the notable features of Kaiku:
Online account management including a handy mobile ap
Can be used at 55,000 ATM locations nationwide
Can be loaded via paypal, amazon, direct deposit, at select retailers, or even by taking a picture of a check
Free transfers between Kaiku users
Several card designs to choose from
Welcomed where Visa is accepted
That certainly sounds good, but how does it work in real life? I wanted to find out, so I took Kaiku out for spin for a couple of months.
Activation
When my card arrived in the mail, I instantly dialed the number provided to activate my card. I even got to select my PIN number immediately. No hard to remember PIN number just assigned by the bank for Kaiku. Kudos!
Load It Up
I registered my Kaiku with Paypal following the instructions on their website. This took a few days for the process to complete, but that's really a one time Paypal process issue. Once that was done, I transferred fund to my Kaiku. Even though it took a few business days for the funds to show up, this was a convenient way for me to load the card. I get paid from my freelance writing through Paypal, so I commonly have a Paypal balance that needs to go somewhere.
Another option is to deposit funds by taking a picture of a check. If you can wait 10 days for your money to be available, there's no fee to do so. However, if you need the funds available immediately it will cost you between 1% and 4% depending upon the kind of check, with a minimum fee of $5. To avoid fees, you'll need to plan ahead as it will take some time to transfer it to PayPal and then to the card, or use the 10 day delayed check loading feature.
Kaiku users could also load funds at a Ready link or Moneygram location. There will be a fee (between $2.50 and $4.50) changed by the retailer to complete this transaction.
Making Purchases
I made my first purchase at Walmart, which went through without any issues. From there I decided to be a little more adventurous. I walked over to Sam's Club where Visa credit cards are not accepted, but debit cards are. How would Sam's Club treat the card? Would it confuse their system into a "denied," or would the transaction go through? I did a little fist pump when my transaction completed successfully.
Handling A Lost Card
I took Kaiku with me on our recent family vacation to Wisconsin Dells. Upon returning home, I realized I had lost the card. I immediately signed into my online account and reported the card lost. I was assured my card had been deactivated, and a new one was on the way. A few days later, I received my replacement card in the mail. I went through the activation process sitting in my car in the Walmart parking lot, then marched right in and used it to make a purchase.
Real Life Application
I could see myself successfully integrating Kaiku into our cash only spending methodology. On Friday, instead of withdrawing cash I would simply load our weekend entertainment funds onto my Kaiku. Then, we would use Kaiku for all of our entertainment spending. To see how much of our entertainment funds are left, instead of counting bills in my wallet I'd just check the Kaiku Ap on my phone.
There is a $3 monthly administration charge to use Kaiku. However, that fee is waived if you setup direct deposits that exceed $750 each month. I wouldn't qualify for that if I used Kaiku for just entertainment, but if I added my grocery shopping into the process I would.
I could also see Kaiku as a great way give money to my kids if they were going to the mall, or on a trip away from home without us. It would give them easy access to funds without having to carry a lot of cash around.
Kaiku could be a useful tool to help us maintain an envelope like system of spending, keeping our weekend spending separate from other funds. At the same time, it would eliminate the need to carry a wad of cash around. If you're looking for a tool to help you accomplish the same goals, I recommend taking a look at Kaiku.