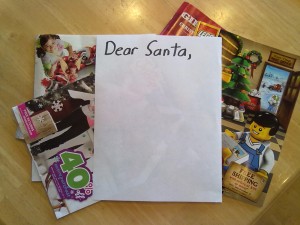 In a scene common to many American households during the holiday season, my kids sat at the kitchen table thumbing through a stack of Christmas toy magazines creating their Christmas wish lists. I smiled as I watched them, remembering doing the exact same thing when I was a kid.  I actually folded mine up, put it in an envelope and gave it to my parents to mail to Santa.
Feeling their excitement as I walked towards the table, I overheard, "Oooh, I've never seen that before, that is SO cool! That's definitely going on my list!"
Suddenly having them go through hundreds of pages of toys making a list of everything that looked remotely fun didn't seem like such a good idea. It was the equivalent of going grocery shopping without a list after not eating all day. Rambling through the aisles, throwing anything that looks good into the cart without any rhyme or reason.
Groceries purchased without a plan will often either migrate to the back of the cupboard to collect dust until the next food drive, or sit in the refrigerator until it spoils and gets thrown out. Gifts selected without much thought must face a similar fate, I thought to myself.
I descended into our basement, which is our kids' toy room, to test my theory.
I stared in horror at the seldom used, Barbie dream house from two years ago that was a late minute addition to Tori's list. I shook my head looking at the plastic tub filled with Hot Wheels Trick Tracks that looked awesome to my son in the catalog, but when put together just didn't pack the expected punch of fun.
I'm sure there were more examples to be found in all the things we'd sold in garage sales and on Craig's List over the years.
The problem can be traced back to that scene at the kitchen table. We had encouraged the kids to go through these gigantic toy catalogs encouraging them to write down anything that catches their eye. We would then take the list, and reconcile the list with the budget following the formula of one "big" present from Santa, then selecting as many things as would fit in the budget off the list.
No "big" item on the list? No problem, just tell the kids to think about what they would want from Santa, or go through the catalogs again. That's how we ended up with the Barbie dream house.
The kids have made their lists, but they've been folded up neatly and tucked away. We're not even going to look at them. I doubt that they could tell me most of the things that they had put on their lists. We're going to select gifts  by watching them, and listening to them. By giving it just a little thought I can come up with several ideas for both of my children. They've both been talking about a few particular items for months. Those are the things that will make the best gifts because they've been thinking about them, even dreaming about them.
So retailers, save your catalogs from now on. Keep away from my children your hypnotic, glossy pictures meant to convince them to become temporarily interested in some toy that will become next summer's garage sale item.
Santa may need you, but I don't.