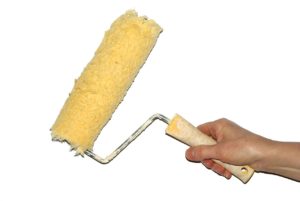 When the cashier asked if I wanted to join their rewards program, I agreed and filled out the short form.  But I wondered if it was really going to benefit me, or if it would simply add to my email inbox clutter. But joining the Sherwin-Williams Preferred Customer Paint Perks program was about to save me big on my latest home improvement project.
I was beginning a project to give my son's bedroom a new look, starting with a fresh coat of paint. I had seen a color I liked at a restaurant, and ended up getting the name of the color from the owner. That conversation led me to Sherwin-Williams buying a quart of paint to sample before committing to painting the whole room. After agreeing to fill out the very short form and join the Preferred Customer Paint Perks program, I was rewarded with the words that every customer likes to hear; Sherwin-Williams was running a 30% off sale for Paint Perks member.
I saved 30% off my purchase, just by joining the Sherwin-Williams Paint Perks members.
When I got home and really looked into what the Preferred Membership Paint Perks I knew I had made a good choice:
Access to exclusive sales :

This is how I received 30% off my initial purchase. Had I declined to join the rewards program, I would not have been eligible for this discount. That's a HUGE sale just for signing up for their rewards program!

Coupon For Joining :

Checking my email, I found a $10 off my next $50 purchase for joining the Paint Perks program. That coupon alone made it worth my time to fill out the form to join the program.

Purchase History :

I can access my rewards program online, and see my paint purchases from the last 10 years. This reminded me of my last painting project, in which I wanted to paint a different room in my home the same color as my great room. Unfortunately it had been several years since I had painted my great room and had no history of what color it was. If I ever wanted to touch up the room, repaint it the same color, or paint another room the same color my history is tucked away in my Paint Perks program.
After spreading some of the paint on my son's wall, we decided to go ahead with that color. I went back to Sherwin-Williams to buy a full gallon of paint as well as other supplies. Not only did I save 30%, but since my total exceeded $50, I used my $10 off coupon as well.
Not all rewards programs are worth the hassle to sign up and receive constant emails. But with benefits such as 30% off sales, the Sherwin-Williams Paint Perks programs seems like one worth having.
Are you a member of the Sherwin-Williams Paint Perks program? What other loyalty rewards programs do you have that has great benefits?