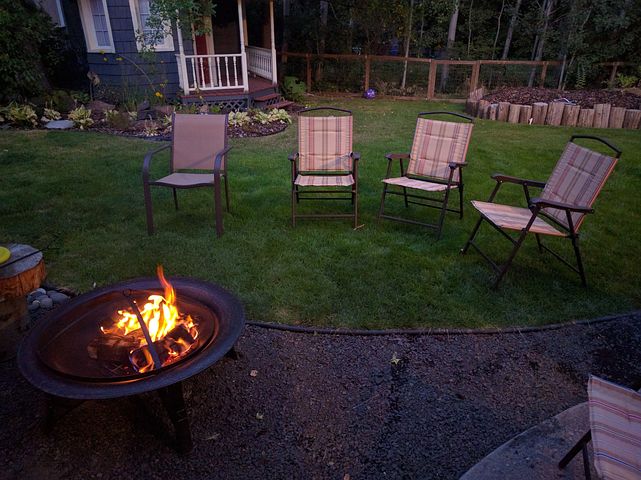 The common anti-debt stance on spending money is if you're in debt, you shouldn't be spending money on frivolous things. How dare you have cable if you still owe on your car? It's a fairly hard stance many personal finance gurus take, that's not necessarily all that realistic. For example, cutting out all socializing and discretionary fun when you're in debt may help you pay down the debt faster, but may not exactly lead to a high quality existence. I like to take a more middle ground approach. Make consistent and steady progress towards your financial goals, and have a little fun along the way. Being smart with your money allows you to do both. One way you can keep your social life alive and have inexpensive fun is by literally lighting a fire.
Let me pose a few different scenarios of a hypothetical friend wanting to get together with you that may be looking to not do the usual go out and drop a pile of cash at a restaurant, bar, or club.  Let's see  which one sounds the most inviting to you.
Scenario #1: Yaaaaaaaawwwn
"Hey, want to come over to watch television, or a movie and have a few drinks?"
Yaaaaaaaaawn. Your friend is cool to hang out with, but sitting in his house doesn't sound like a great time.
Scenario #2: Getting Better
"It's a nice night out, I'm inviting people to hang out on my deck, shoot the breeze, and throw back a few cold ones. Want to join me?"
This sounds better, as it's fun to enjoy the outside when the weather is good. But there's just something lacking in the event. There's no pizzazz to grab my interest.
Scenario #3: Light My Fire
"I'm having a fire tonight. Want to come over to roast s'mores and have drinks with friends?"
Bingo, now we're talking. While this event really isn't much different than the others, a fire gives the event a label that gives is a higher status. Telling someone you went to a fire sounds like you did something that took some planning. Plus, not only does the fire keep you warm, but people find it aesthetically pleasing to look at dancing flames.
Having a fire does have some cost to it, but there's a couple of different routes you can go:
Homemade Fire Pit: You can go old school and just make a circle out of big rocks and build a fire in the middle. If you have firewood from a tree, this costs you very little. If you have to buy firewood, you might have to spend $10-$20 for a night's worth of wood.
Metal Fire Pit: You can get one of these for as little as $50. After that one time charge, all you need is the $10-$20 of wood for a night's fire.
Landscaping Brick Fire Pit : Kits can be purchased from big box hardware stores for a few hundred dollars. Again, this is a one time investment, after which a single night's fire is relatively inexpensive.
Gas Fire Table : The initial investment here is a little higher (a few hundred dollars and up), but the propane tanks you use to fuel the fire will last many nights and end up being cheaper than buying physical wood. This also has the advantage of not leaving your guests smelling like a chimney.
Whatever choice you decide upon, you can't go wrong. We've had a gas fire table for several years, and not only does my wife and I use it, but both our kids invite friends over for fires as well. Sitting around a fire with friends is a fun event that will stimulate many great conversations and memories.
How about you, EOD nation, do you have a fire pit? Have you made some great memories sitting around a fire?