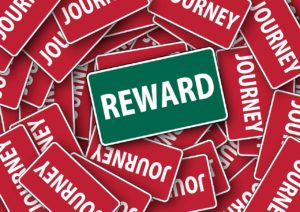 Friday night I found myself pulling into the parking lot of Outback Steakhouse. One teenager with a vehicle at work left another teenager (and her friends) in need of a ride to the high school football game. By the time that all got coordinated and executed, my wife and I were hungry and not willing to wait the time it would take to drive all the way across town back to our home and cook dinner. Thus Friday night was one of those times when I was actually OK with going out to eat.
Even though I was voluntarily dining out, I couldn't help but have my, "I could make this for way less," reaction to looking at the prices on the menu. It was then a small flyer on the table caught my eye. It was an advertisement for a rewards program by Outback's parent company. It advertised that after three qualifying visits to Outback (or a handful of other restaurants), a member would get 50% off their fourth visit.
Here's how it works:
Create an account at dine-rewards.com.
Download the Outback Steakhouse Ap on your mobile phone
As part of setting up the Ap, you'll link your dine-rewards account with the Outback ap.
Pay your Outback Steakhouse bill with the ap by typing in the receipt code from your bill. The ap then records your visit as a qualifying visit if you purchased more than $20 in food and non-alcoholic beverages.
On your forth visit, you will receive 50% (up to $20) off your bill.
There are a couple of things that customers have to keep in mind with Outback's rewards program:
Not Really 50% Off
I have to complain a little about the use of the term "50% off" given the maximum discount of $20 wouldn't be 50% off a normal visit to Outback for my family, or potentially even my wife and I. But I'll take the rewards program at face value, that they are willing to reward a certain frequency of eating there with a nice discount. You can bet on that 4th visit we'll be making sure we get the full $20 discount.
Time Limitation
The other thing to take note of here is that your 3 qualifying visits have to occur within 6 months. Thus, you have to eat there on average once every two months to earn the discount.  You have to be very careful that the rewards program doesn't make you eat out more often just to get the discount. If I would spend $70 on an extra dining out occasion to get a $20 discount, that's not saving me money. That's making me spend MORE on dining out. Now, maybe it would convince you to eat at Outback INSTEAD of somewhere else. That's OK, as long as it simply increases the frequency of eating at that particular restaurant and not your overall dining out frequency.
Rewards programs are becoming increasingly more common. Airlines, gas stations, and coffee places all have them, so it shouldn't be surprising that restaurants are wanting to get in the game as well. If you can be aware of and avoid the pitfalls, you can use them to your advantage to save some money.
Have you joined any restaurant rewards programs? Have they changed your dining out behavior?