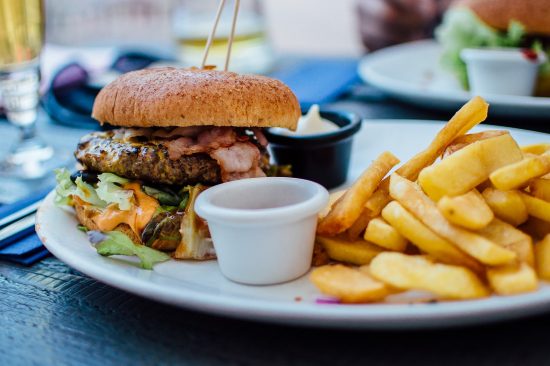 Sitting across from my son and his girlfriend in a restaurant, I listened as they picked a meal to share. My first thought was to question whether they'd both get enough food. Then, my mind was flooded with memories of bringing home leftovers or being miserably full when leaving the restaurant. Maybe my son was on to something that could help my wife and I cut our bill when dining out.
By sharing an entrée, you can significantly reduce the overall cost of eating at a restaurant. However, there is a little bit of art to the process. Some entrees are prime for sharing, while others are not.
Entrees Great For Sharing
These entrees are great for two, just ask your server for an extra plate!
Hamburger: If the menu boasts hefty half pound burgers, it's perfect for sharing. Fries are inexpensive and almost always over portioned as well.
Pasta Entrée:  Pasta dishes are often huge, easily enough food for two people.
Steak: Very few people can eat a 16 oz ribeye steak and not feel like they've over eaten. Also, many steakhouses will let diners select two side dishes. Cut the steak in half, each pick a side, and that entree is easily a dinner for two.
Salad Entrée: Restaurants seem to take pride in serving eye popping sized salad entrees. I've taken home a half eaten salad entree my wife ordered countless times. Instead, we could split it and cut our bill.
Pizza: Many times my wife and I will each order a small pizza of the type we want. However, by trading off who picks the pizza type, we share a pie and keep our dinner cost down.
Entrees Better For One
Nobody wants to leave a restaurant hungry. The below entrees are best suited for just one:
Non-Breaded Fish: Broiled or grilled fish isn't very filling. Split even a 10 or 12 ounce piece of fish and you'll likely end up feeling unfulfilled.
Chicken Breast : Many times chicken breast entrees are found listed on the lighter or healthy portion of the menu. They're usually not very big or filling.
Splitting an entrée with your significant other can greatly the amount of leftovers that end up in your fridge (which may or may not actually be eaten), as well as your overall cost of dining out.
How about you, EOD Nation, do you split a meal with your dine out with your significant other? Do you have any suggestions to add to either of the above lists?