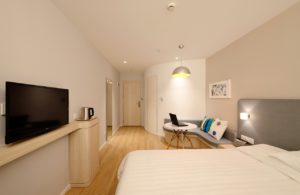 My wife is well known for ensuring that she gets what she pays for. When something doesn't meet her standards, or someone doesn't deliver as promised, she makes sure that compensation is received. I've heard her utter the phrase, "How are you going to make this right?" infinite times. We've received discounts off our bill at restaurants and hotels, or sometimes even a gift card for a future visit.
Most of the time it's for a minor inconvenience such as:
Paying extra for a hotel room with a view, but the view is unspectacular
Food cooked incorrectly
Bad service
Not getting the room type we had requested
However what we experienced over the weekend was not only minor inconvenience and unsatisfactory work by a hotel maintenance worker, but actually could have been hazardous to our health.
We checked into two adjoining hotel rooms Thursday afternoon. One was for my wife and I, and the other for our daughter and her friend. We walked into our daughter's room first, and then passed through the adjoining doorway into our room. As soon as we entered the room, we were slapped with a foul smell. Thinking that it might just be from the recently departed cleaning crew, we turned the air conditioner on as we normally do to cool the room down to a crisp 68 degrees, and then left for a few hours.
When we returned, the odor was still present. My wife picked up the phone and called the front desk in what would be a series of phone calls.
Call #1 (Friday Afternoon)
My wife reported a foul smell in the room. She was told a maintenance person would be down to investigate. When we returned a short while later, there was an ionizer sitting on a chair running. The machine claimed to be an electronic room deodorizer, however the foul smell remained.
We spent the rest of the evening debating whether the smell was still present. We concluded the smell was indeed still there, as we noticed it each time we entered the room, but we quickly got used to it once inside the room.
Call #2 (Friday Evening)
The maintenance person returned, who got a little snippy with me over the fact that the ionizer was not running. Obviously we could not expect the smell to disappear if we turned off the deodorizer. I informed him that HIS machine had a 60 minute timer on it, thus we had to constantly turn it back on. I also pointed out the fact that the odor was still present. He suggested we continue to let it run, and he would check on it again later.
Call #3 (Saturday Morning)
My wife called the front desk again inquiring if we could be moved. We were told that we had the only adjoining rooms poolside. We really wanted to make the rooms work as moving would be a pain, and we then either had to not be in adjoining rooms (which we really wanted to keep), OR we would no longer be pool side. The maintenance man came again and sprayed a room spray. We also (at their direction) left our hotel room door open as well as the sliding door to the pool to improve air flow for a short time. I also went to a nearby Bath and Body Works and bought a room spray. Between these efforts we believed it the odor was dissipating, so we stated we would no longer have to be moved.
Call #4 (Sunday Morning)
We had gone to a concert Saturday night, but when we returned, we instantly noticed the odor had not gone away. In fact, it worsened over night to the point that both my wife and I had headaches. Sunday morning my wife called again, and asked that a manager come down and personally experience the smell. As soon as she walked into the room (with the maintenance guy and the head housekeeper beside her) she instantly stated that she noticed the smell. The maintenance guy agreed and even mentioned it was worse than the day before. The manager continued that this had happened before in a different room, that it smelled like there was a leak around the toilet causing sewer gas to come back into the room. She instructed the housekeeper to take the room out of use and told us to stop by the front desk when we checked out (as we were packing our things) and she would take care of us.
There were several things here that I believe the hotel could have done better:
Recognition of Smell : A properly trained and experience maintenance person should be recognized what the smell was and either began the appropriate repairs immediately and/or recommended that we be moved.
Inform Manager Part I: After being in our room several times without the smell getting better, the maintenance guy should have informed the manager about the situation.
Inform Manager Part II: After calling down to the front desk several times, the front desk crew should have informed the manager about the situation.
Manager Handling : Once informed, the manager should have come down on their own to investigate. Of course, we'll never know if this would have happened, because the staff never informed the manager of the situation. My wife had to specifically ask to have a manager come to the room.
Upon checkout, the manager apologized several times, and instructed the desk worker to remove one of the night's charges for that room from our bill. In the future, we'll certainly be using an updated methodology of dealing with such problems. Anytime there is an issue with a service or product do the following:
Complain Immediately :

At the first sign of trouble, tell someone you are unhappy. You want to give whomever involved a chance to rectify the situation.

Continue to Complain :

If the situation is not rectified quickly, complain again.

Be Honest With Yourself :

If an attempt is made to fix the problem, but it is not resolved satisfactorily, complain again. Never settle for, "good enough."

State What You Want :

Service and product providers want their customers to be happy. If they cannot resolve the issue state what WILL make you happy.
Looking back, I'm not sure if I'm 100% satisfied with the deduction of one night's stay.  We did stay in the room two nights, but I think the hotel could have handled the situation much better.  There's also the fact we might have been breathing in methane rich sewer gas for two days. But in the future, we'll be following the above 4 points to help resolve our issues quicker and more completely.
Have you ever had an issue that a service provider or product retailer did not resolve quickly or completely? What did you do?