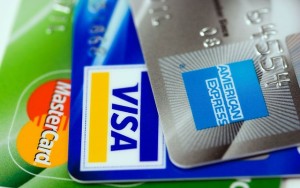 If you're a regular reader here on Enemy Of Debt, you know that I'm a firm believer that cash is king. I'd much rather throw down some greenbacks than swipe a card. Every reason that I love paying for things with cash was reinforced by a situation with my daughter that occurred over the weekend.
As I waded through my email, I noticed three email receipts from Apple for purchases made through iTunes. I hadn't made any purchases during the week, so I was interested to see what had been bought, and by who. The agreement with my kids is that before they purchase anything, they talk to us first. The receipts showed, however, that my daughter had purchased $34 worth of songs without approval.
This was a great opportunity for a teaching moment.
She confirmed that she had purchased some individual songs plus a new album by a band that she liked. The rest of the conversation went something like this:
Me: "Do you know how much you spent?"
Tori: "Uhhhhh, no."
Me: "About thirty four dollars."
Tori: "I figured I could just pay you back."
Me: "Do you have enough money to pay for it?"
Tori: "I don't know."
Me: "When you make purchases like that, it comes out of my checking account. What if there wasn't enough money in the account?"
Silence.
The reality is, my daughter purchased songs with credit and fell victim to several traps that are all too easy to succumb to.
Lost Sense Of Real Cost
What Happened:
She purchased the items without regard for the total cost. The creditor (me) would cover whatever the bill was, and she would just take care of the matter later. When the bill came due.
What Should Have Happened:
Had she come to me before making the purchase, as is our agreement, I would have made her add up the total cost of what she wanted to buy.  She would have known exactly how much she was spending before she made the purchase.
The Payment Trap
What Happened:
Because she didn't pay attention to the cost of her purchase, she didn't know if she had enough money to pay for it. If she didn't have enough to pay for it, she likely would have expected to pay the remainder of the bill with her next allowance. In other words, she would make payments.
What Should Have Happened:
After totaling up her bill, I would have had her physically remove money from her purse and give it to me prior to actually purchasing the songs. If she didn't have enough to pay for all the songs in her cart, she would have had to reduce her purchase to fit within the cash she had in hand.
I reviewed with her our agreement that she needed to talk to either my wife or me before she made any purchases. Having her do so is not only about us keeping an eye on what she's spending her money, but also to teach her the responsibility associated with making a purchase and the importance of the physicality of paying immediately for the things she buys. I explained to her that she made her purchase with money that belonged to someone else – which is exactly what using a credit card is. Buying something by just pressing a button or swiping a card is easy, and doesn't require any thought. But having to physically take money out of her purse, and see an empty space where her hard earned money used to be makes her really think about whether the purchase is worth it.
Do you prefer using cash to making your purchases? Do you find that it helps keep you on budget and think more about your purchases?