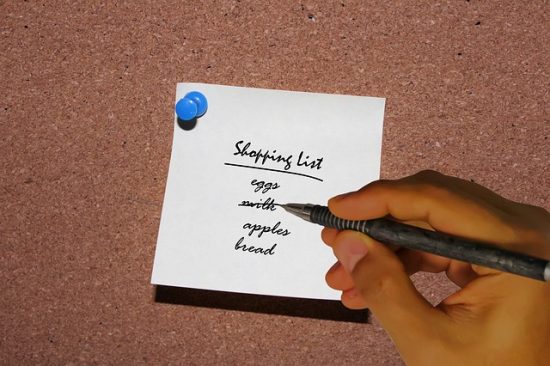 Imagine a couple sitting at the kitchen table meal planning for the week and making a grocery list. For the most part they agree. However each has things they'd like to put on the list, but buying everything would bust the grocery budget for the week. Instead of having the discussion turn into an argument, the two turn their grocery shopping list exercise into a sports-style draft.
How It Works
In a sports draft, each team takes turns picking players to be on their team. With some modifications, this methodology can be used by couples making a grocery list.
Make A Complete List
First, make a list of all needs and wants for the list. This includes (but not limited to):
Items needed for meals desired for the week
Needed kitchen items
Toiletries
Laundry supplies
Snacks
Make sure you write the estimated price next to each item.
Start With Requirements
Start a new list by adding things you absolutely must have. For example, if you need laundry soap, shampoo, or toilet paper all should agree those should be on the list.
Add Agreed Upon Items
Next, add any items that both agree should be purchased. For example, if everyone wants pizza for dinner one night, add that to the list.
Grocery Draft!
Flip a coin to see who gets to first. The winner of the coin flip picks something they want from the remaining list and moves it to the final list. The cost of the item is added to the total of the list. Then, the other person does the same. This process repeats until the total is as close to the grocery budget amount as possible.
In some households one person plans the meals and does the grocery shopping. But for those in which both members of a couple are involved, there will be disagreements regarding meals, snacks, and other items contained within the grocery budget. Following this example of a grocery list draft helps couples easily resolve those differences and keep the grocery bill on budget in a fair and fun way!
How about you, EOD Nation, do you meal plan and grocery shop with your significant other?  How do you resolve differences?