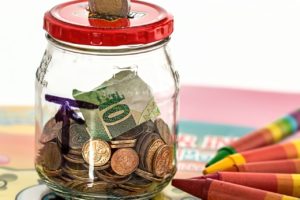 The emergency fund is one of the fundamental tools needed for financial freedom. Without an emergency fund, any unexpected expense results in a financial crisis that could require some extreme measures to recover from. I know this from personal experience all too well.
Once you have an emergency fund, keeping it going is easier because a person understands it's true value. The problem is the initial startup of getting it going. It's hard to change your spending habits to set aside money for those things that just pop up in life. It's also hard to see money just sitting there untouched while you daydream about purchasing some new widget.
If you don't have an emergency fund and are having trouble getting one going, I've got an idea that may just do the trick. It's something that you may already have had in your home for years. It's that change jar that you throw the loose change from your pocket into every night.
A change jar is a great way to get an emergency fund started.
When using a change jar to start your emergency fund, here are some suggestions that can help you be successful:
Opaque Container
You want to select a container that you cannot see through. If you can't see the money, you'll be less tempted to spend it.
Size Matters
Pick a medium sized container that will take awhile to fill, but not too long. If you select something too small, it will get filled up too quickly and it won't seem worth using for an emergency fund base. Pick something too large and it will not seem like you're making any progress. Personally, I use a 48oz soda mug I got from a theme park.
Dollars Too
The point of the change jar is to throw all your loose change into it. Don't be afraid to throw a dollar bill in there from time to time as well. If I've got an excess of singles in my wallet, I'll one or two will make it's way into the jar.
Don't Raid The Jar
It's easy to go digging for quarters when you need some change for road tolls and parking meters. Don't. Do. It. Once money goes into the jar, it stays there.
Deposit When Full
When the jar gets full, or after a predetermined length of time, take it to the bank and have it counted and put into your emergency fund account.
I usually empty my change jar every 3-4 months and most times collect around $100. While you'll want to continue building it up, and gradually add funding to it from your budget, your change jar can be used as a foundation to jump start your emergency fund.
How about you, EOD Nation, have you ever used a change jar to fund your emergency fund, or to save for something?