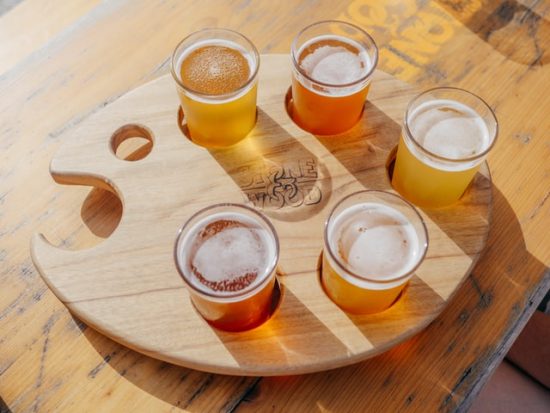 Microbreweries are very popular right now. They're a great place to go with some close friends, try some locally made drinks and socialize. Many microbreweries have games for patrons to play as well. Part of the fun of going to such a place is to try different things. But after trying several brews you might find your stomach full, but your wallet empty. Thankfully, many microbreweries offer something that provides the opportunity to sample a variety of new things without draining your wallet. This perfect solution is called a flight.
What Is A Flight?
A flight of beer is several small servings beers, usually 3-5oz, served on a wooden board called a flight paddle. A beer flight may have anywhere from 4-8 samples depending on the retailer.
Flight Cost Comparison
Prices will vary by location, but in rural Minnesota a pint of beer at a local microbrewery costs between $5 and $7. A beer flight will cost in the neighborhood of $8 to $12.
The price per ounce will be roughly the same, but the difference is you get to try more varieties of beer for less money.
Not Just For Beer
If you're a wine drinker and frequent local wineries, you can usually purchase wine flights as well. A flight of wine usually consists of 3-5 samples of 2oz each.
Not Just for Craft Drinks
While local microbreweries and wineries sell flights to help you more easily sample their products, flights are also popular at tap houses, wine bars, and even bars featuring whiskey or bourbon.
Why I like Flights
Even though the cost per ounce is equal or even a little higher when purchasing a beer or wine flight vs buying by the pint or class I spend less when I buy flights. I also order a big glass of water with my fight, and drink it between samples. Between the samples and my water, I make a single flight last my entire time out with friends. I get to try more types of beer, wine, or whiskey and spend less.
How about you, EOD Nation, do you order beer, wine, or whiskey flights when you go out with friends?