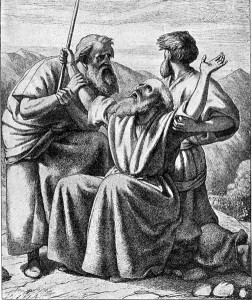 At mile 19 of the Twin Cities Marathon in 2003, I found my family, as well as my brother-in-law and his family cheering me on. Seeing their familiar faces provided me the instant mental "pick me up" that I so desperately needed to keep going.  When you're being challenged in life, having people there to support you can make all the difference.
However, as I work to achieve the very difficult task of getting out of debt, I am missing the support of many of the important people in my day to day life.
Because they have no idea what I'm going through.
Many of my friends and family don't know the kind of debt I'm in. My parents certainly don't know.
Last week, I tweeted a link to an article posted at Get Rich Slowly entitled "Why Don't People Talk About Money?" My friend and fellow CareOne blogger Suzanne Cramer gave this one word response: "Ashamed."
I can identify with that.
There was a recent thread in the CareOne Community in which a customer stated he felt like "less of a man" because of his debt.
Having racked up a mountain of debt, and completely failing as the head of my household, I can identify with that, too.
Within the personal finance blog community I am rather open about my debt, but when it comes to my "real life," the story isn't quite the same. If you've connected with me on Linked In, you may have noticed that my profile says nothing about being a personal finance blogger.  If you've connected with me on Facebook, you may have noticed that I don't share links to my blog posts.
Ever wonder why that is? I ask myself that question often.
Ashamed? Yep.
Afraid of being judged by others? Absolutely.
What's stupid about this whole situation is that those coworkers and family members that I have told have been nothing but supportive. One of my coworkers even showed interest in becoming a blogger himself. My mother-in-law knows all about our situation, and she's been a tremendous source of support.
Why wouldn't I want more of that?
My friend Cait, who used to blog  anonymously, recently told her family not only about her debt, but also about how she's now making better choices, how she's on the road to being debt free, and all the wonderful opportunities that have come to her because of her blogging.
I want to find the strength to tell my friends and family as well.
I want to be able to lean on them when I screw up…and I do screw up.
I also want to share with them all the amazing things that have happened to me over the last three years:
As I've worked through the writing of this post, I've realized that I'm basically trying to talk myself into doing it. I'm just not sure if I'm ready yet.
Just this morning I updated my Linked In profile to reflect my part-time career as a financial blogger.  Maybe tomorrow I'll start sharing my posts on Facebook.  Maybe someday I'll make a phone call to my parents.
It's a baby step, but on this journey out of debt, every little step counts.