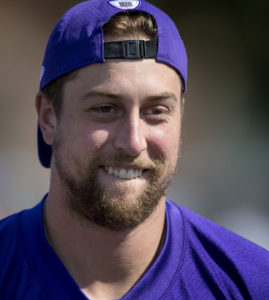 I'm a huge Minnesota Vikings fan. This year's team is doing really well for a lot of reasons, but one player that has a special place in my heart is that of Adam Thielen. Thielen actually played Division 2 college football at little known Minnesota State University, Mankato. That just happens to be my alma mater. He wasn't recruited out of high school, went undrafted at the NFL draft, and had to pay to display his skills at a regional combine. He was invited to Vikings training camp, and was added as a practice squad member that year. From there he made the team as a special teams player, broke out as a receiver his third year, and this year has become one of the top wide receivers in the NFL. The story of Adam Thielen can teach us all a little thing about achieving our dreams, including our financial ones.
Goals Are Not Achieved Overnight
It took Thielen several years to achieve his dream of being a starting wide receiver for an NFL team. Unless we win the lottery, we cannot achieve our financial goals and dreams overnight either. It will take years, and we must keep our eye on the goal and keep working at it.
Hard Work and Dedication Wins
Having all the talent in the world won't take you to where you want to go if you don't utilize it correctly. More often than not, it's players who have unquestionable work ethic that become great. Having a high income doesn't make you wealthy, it's the ability to exhibit self-control and get the most from the income you do have.
Believe In Yourself
Self-belief and confidence in your ability to achieve anything you put your mind to is essential to keeping yourself going when times get hard. It would have been easy for Thielen to give up on his dream, but he believed he could do it, and he proved himself right.
Humility Is a Great Thing
Even after achieving success, interviews with Adam Thielen show him to be a down to earth, humble person. Remembering that in the whole grand scheme of the universe none of us are really that big of a deal is great perspective to have.
The path to achieving our goals in life may not be easy, but the path does exist. Adam Thielen achieved his goal of being a starting NFL wide receiver, and with the same perspective and attributes we can achieve ours, financial and otherwise, as well.